Matt Hardy (41)
The older Hardy brother has seen recent singles success in TNA Wrestling with two World title reigns. After being screwed out of the title the first time by EC3 (Ethan Carter III), Matt Hardy went through a transformation by screwing EC3 out of the title, and at the same time turning EC3 in to a crowd favourite.
He now goes by "Iconic" Matt Hardy, and is accompanied by his wife Reby Hardy, Tyrus, Rockstar Spud, and sometimes his baby son Maxel. He's been using the power of social media to further his online persona, often going as far as trolling the fans.
But his iconic reign came to an abrupt end as Drew Galloway became the first man to successfully cash in the Feast or Fired World title briefcase. With his new image, I wouldn't be surprised if Matt continues to fight for the title in 2016, as well as feud with his brother Jeff who recently returned after his motorbike incident.
Should he retire? No, I don't think he should or will. He can teach the youngsters, and along with his brother Jeff, is one of the remaining veterans on the roster after so many departures, and TNA needs to keep some veterans around to teach the next generation.
Rey Mysterio (41)
Poor old Rey. He had a hard time getting out from under the claws of WWE management, and the only place he could go was his old stomping grounds in AAA. Recently he signed up for Lucha Underground's season two, and while we know he still has value, I wonder if he's a major draw for the show? I highly doubt it .. but I wouldn't be surprised if he still sells masks like hot cakes.
Should he retire? With his list of injuries and use of painkillers, I wonder if Rey is going down a destructive path. He has nothing left to prove, and probably doesn't need money, so I can only see his eagerness to continue a mark of his passion. But just like other wrestlers with the same passion, it can lead to life-changing injuries, and I don't want to see him in pain for the rest of his life. While I appreciate everything he's done, I hope he retires before a severe injury makes the decision for him.
Abyss (42)
The most loyal wrestler in the history of TNA Wrestling isn't slowing down. He loves wrestling, and TNA, so while he's done everything (except win the TNA World title), including a reign as NWA World Heavyweight Champion, he still has something to offer the company.
After many creative changes to his character, it looks like he's finally settled in to something which suits. As a member of the stable Decay, Abyss can mentor Crazzy Steve and Rosemary, and it's a good thing when you have someone with his experience who can elevate them and show the world they're here.
Should he retire? Abyss appreciates the company which gave him a job for so many years, and while he's become the old dinosaur of the show, he still has a lot to give, and he's in the best spot to do so. He will continue to be a locker room leader, and show the world you don't need to have worked for WWE to be remembered.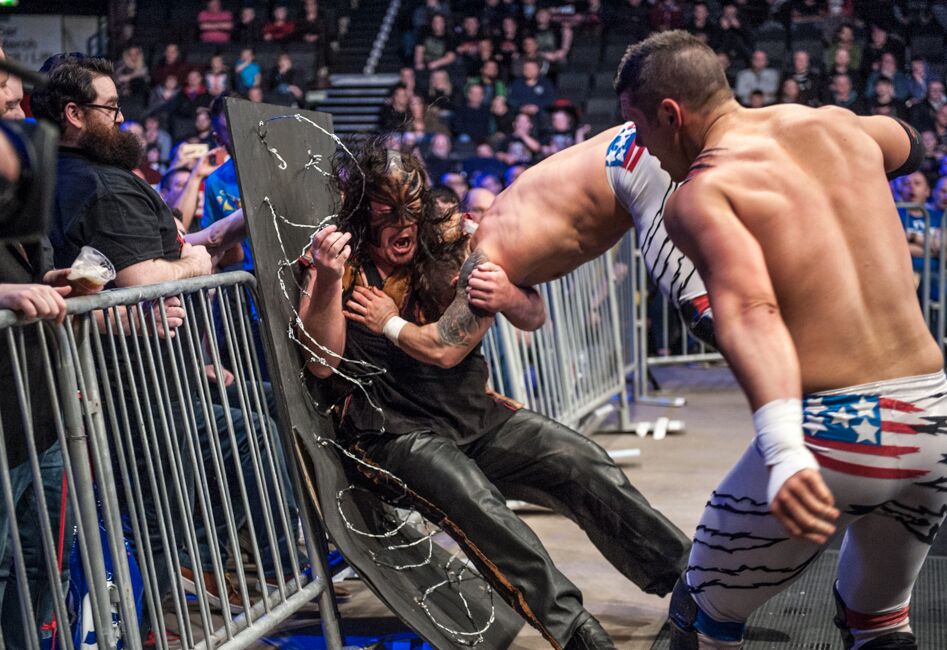 The Rock (43)
I've always loved Rocky. Without The Rock, the Attitude Era wouldn't have been the same, and without Dwayne Johnson, WWE wouldn't have a movie star they can feature.
But while I love his charisma, and while I appreciate everything he's done and how much of a draw he is, it pains me when he returns and takes a spot on a PPV card. Yes, he's a movie star and made millions, yes he can still go in the ring; but is he deserving of a spot when he left the business so long ago?
While he hasn't earned it recently, his name is so huge you can't blame Vince for taking advantage. At the end of the day, Vince is a promoter and chairman, and if he can promote The Rock .. he's going to do it. It's cruel on the wrestlers who work every week on the road, they put everything in, and then The Rock returns and takes a spot, but life isn't fair.
On the other hand, The Rock paid his dues years ago. He already worked the grueling schedules and did everything there was to do in WWE. He wanted to try new things, and see if he could make it as a movie star; so should we hate him for trying new things? Should we hate him for becoming a movie star? Are we selfish for saying he should have stayed in WWE for us, and not for him?
Should he retire? It's a tough question to answer. On one hand, he's pretty much retired anyways because he only wrestles once, maybe twice a year on average. On the other hand, WWE continues to place him on a pedestal above every full-timer on the roster, so it sets a bad precedent. It tells everyone .. "The Rock is the real star, and no one on the current roster is". While that is true, it's not helping the future. It's not helping the current generation of wrestlers in getting over, because they will never be as good as The Rock, and they will never be placed above him.
So after much thought, I've decided what my answer is. I'm still torn on this, because he's a huge draw and Vince will continue to use him no matter what I, or anyone else says, but my answer is Yes, he should have one last match, a career threatening match which will end with him passing the torch to the next generation. No idea who he could pass the torch to .. perhaps Seth Rollins? Or Dean Ambrose? Either way, it can't be Roman Reigns because we know they're related and the fans would crap all over it. One last match is what I want to see .. the night after being inducted in to the Hall Of Fame.
D-Von Dudley (43)
Doze Daaamn Dudleyz! I still can't believe D-Von and Bubba are back in WWE after so many years working for "the other company who shall not be named". Sadly for D-Von, he never made it as a singles wrestler except some minor achievements in TNA. He's always been in the shadow of his kayfabe brother Bubba, and he still is.
Aside from the "Oh My Brother, Testify!", D-Von doesn't have much to offer. He can set up the 3D, or get the tables, but as a worker he's slow and predictable. He was mentioning retirement after leaving TNA, and I'm surprised it didn't happen. Perhaps he was holding out for one last run in WWE? Luckily he and Bubba are good trainers, so they have something to fall back on when their services are no longer required.