Axl Rotten (1971-2016)
He was known as one-half of the tag team "The Hardcore Chair Swingin' Freaks", and for his bloody feud with Ian Rotten in 1995. He also trained Ian Rotten, and current WWE wrestler James Ellsworth.
He was found dead in a McDonalds bathroom, and the cause was a heroin overdose. His last tweet read: "The way I do things may not be the way you do things but you will find out there is only 1 way. My away! (sic) #AxIsTruth."

He was named part of a class action lawsuit against WWE for concealing risks of injury to the head. In October, it was revealed he suffered from CTE, a form of brain disease (brought on by untreated concussions) found in other deceased wrestlers like Chris Benoit, Andrew "Test" Martin, and others.
Balls Mahoney (1972-2016)
With Axl, he was known as one-half of the tag team "The Hardcore Chair Swingin' Freaks". He was also a three-time ECW Tag Team Champion with partners Masato Tanaka (once) and Spike Dudley (twice). He was one of a few original ECW wrestlers to work for the WWE for an extended period after the promotion closed.
He was relaxing at home with his wife, watching Jeopardy(!) and answering trivia questions. He laid on his side to get more comfortable. His wife found him later unconscious and called 911, but he died before the medics could arrive. It was later determined he died of a heart attack.
Just like Axl, his name was added to the class action lawsuit against WWE. In October, he was diagnosed with having lived with the brain disease CTE.
Blackjack Mulligan (1942-2016)
Robert Windham was known as one-half of the WWE Hall Of Fame tag team The Blackjacks. He won several tag team championships with Blackjack Lanza, as well as tag titles with Dusty Rhodes and Ric Flair.
He was the father of Barry and Kendell Windham, father-in-law to Mike Rotunda (I.R.S), and grandfather to his sons Bray Wyatt and Bo Dallas.

He suffered a heart attack a few months before his death following issues with his health. He was hospitalized and died peacefully at the age of 73.
Chyna (1969-2016)
Joanie Laurer, "The Ninth Wonder Of The World", is known as one of the most popular women's wrestlers in the history of the industry. She was a prominent figure in the Attitude Era where she worked as a valet/enforcer for D-Generation X. She broke down walls and proved women could become stars in a male-dominated business.
She was the only woman to ever hold a (wwf) title aside from a women's championship; the Intercontinental title on two occasions. She was also the first woman to compete in the Royal Rumble and King Of The Ring tournament. She holds victories over Triple H, Chris Jericho, Kurt Angle, and Jeff Jarrett.
Her departure was a controversial one which went unanswered for several years. She was in a
relationship with Triple H in real-life, yet in 2001 it was discovered he'd formed a relationship with Stephanie McMahon, which upset her as she claimed they were having an affair. The tension led to WWE sending her home, before both sides agreed mutually to part ways.
Joanie never recovered mentally from the betrayal. To her last days she continued to claim WWE didn't want her back. In an interview with Stone Cold Steve Austin on his podcast, Triple H said he had no ill feelings towards her, and praised her career .. while also giving the impression that he wanted her to move on from the past.
She spent the rest of her days in the porn industry, releasing several sex tapes. The fact she went in this career direction made it difficult for WWE to approach her as it didn't want to be seen as a family company who promotes pornography. Some found this to be a double standard though, and more of an excuse than a valid reason.
Talk of her Hall Of Fame induction picked up this year, with Triple H making comments on the podcast, and Stephanie herself saying it was only a matter of time; but was unsure if or when it could happen. Despite the couple making positive remarks about celebrating her career, Chyna continued to show animosity toward them in interviews.
Despite her issues with drugs, and WWE, Chyna will be remembered for her wrestling career before anything else. She played her part, and it's hard to imagine any woman having the same dominance she did, in a time when wrestling was booming with high ratings and cut-throat competition.
She was found dead in her home in April. The cause was a drug overdose brought on by mixing drugs and alcohol. Her brain was donated to science to study the effects of the brain disease CTE. After the funeral ceremony, her body was cremated and scattered into the Pacific Ocean.
Gypsy Joe (1933-2016)
He is known mainly for his work in the Tennessee area, as well as garnering a following in Japan. He's known for being the longest working wrestler in the history of the business, as he worked through seven decades. He's also known as one of the pioneers of the hardcore style, and the first man to jump off the top of a cage on to an opponent. After an extended illness, complications arose which led to his death in the summer at the age of 82.
Hayabusa (1968-2016)
Eiji Ezaki was a masked wrestler who worked for Japanese promotion FMW. He is known for his early retirement following a nasty botch (will give the video but you have been warned! It is hard to watch) which left him paralyzed for the rest of his life. FMW closed its doors shortly after his incident as he was considered the heart and soul of the promotion.
He took time to visit WWE and get photos with talent such as Sabu, Rob Van Dam, Rey Mysterio, Jeff Hardy, Triple H, Shane McMahon, and Vince McMahon.
By 2015 Ezaki had finally regained use of his legs, but needed a cane to ensure his balance.
He died due to a hemorrhage of the brain, and was found in his home by the owner of a nearby tavern who he had planned to do a concert for.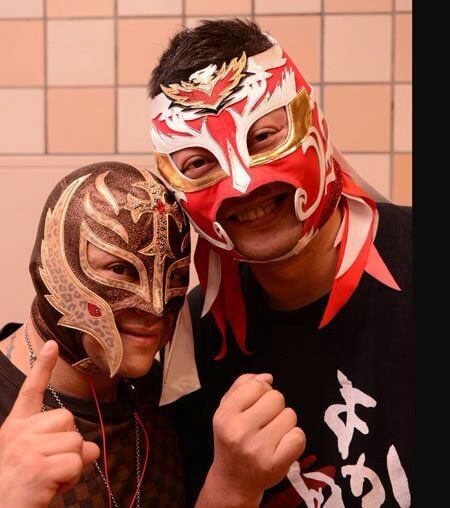 Kris Travis (1983-2016)
Travis was an English wrestler known as a staple of the UK and European Independent scenes. Was also known for getting to the Finals of TNA British Boot Camp 2, where he was forced to withdraw. He worked with many big names, and they came out in force to give their condolences after his passing:
You can keep up with all your wrestling news right here on eWrestlingNews.com. Or, you can follow us over on our Twitter and Facebook pages.