Otto Wanz – CWA World Heavyweight Championship (4 times, 4208 days)
Otto Wanz was a popular wrestler in Europe in the 70's. After winning the AWA World Heavyweight Championship, Otto formed the CWA, and became the first CWA World Heavyweight Champion. The title was contested around the world – South Africa, Austria, the United States and Germany.
As the promoter of CWA, Otto continued winning the title between 1973-1990, retiring immediately after his fourth win in 1990 to focus on promoting. Like many other promotions, CWA closed down in 2000, and Otto retired from wrestling completely.
Dr. Wagner Jr – UWA World Heavyweight Championship (1 time, 4209+ days)
A title which has existed since the inaugural champion, Lou Thesz, won it in 1977. The title remains, but the promotion does not; it closed in 1995. Despite the promotion closing, the title continued to be defended in other Mexican promotions. The charismatic Dr Wagner Jr won the title in the summer of 2004, and still holds it over eleven years later!
He does carry the title around, and the title does get mentioned by others. It's possible (no clarification) Dr Wagner Jr has the right to book himself to win, as the championship belongs to him. He doesn't seem to be slowing down in his career so expect the title reign to continue.
Rayo de Jalisco Jr. – WWA World Heavyweight Championship (Mexico) (1 time, 4662+ days)
Who? Yeah I didn't know about this guy either. But he's got to be decent, as he defeated Rey Misterio Sr for the vacant title way back in 2003. The WWA titles have been unsanctioned since the 90's, which is likely why Rayo continues to hold this forgotten title.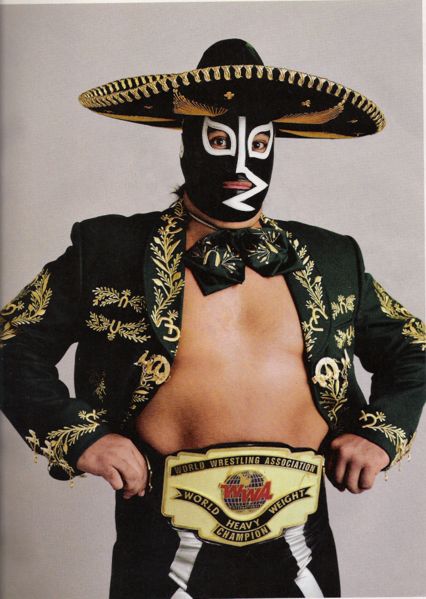 Verne Gagne – AWA World Heavyweight Championship (10 times, 4677 days)
1960-1981 was the time of Verne Gagne. With the days he held, that's almost thirteen years in a twenty-one year period! But while many will criticize Gagne for booking himself as champion (as he was the owner of AWA), and his son as champion, he should be praised for training legends such as Ric Flair, Curt Henng, Ricky Steamboat and many others.
El Canek – UWA World Heavyweight Championship (15 times, 7086 days)
I didn't know about El Canek either. 1978-2004 saw El Canek win the title fifteen times, including wins over Lou Thesz, Tatsumi Fujinami, Vader and many others. He continues to wrestle on the independent scene at the age of 63. He's lucha libre for life.
Mil Máscaras – IWA World Heavyweight Championship (Mexico) (1 time, 14911+ days)
Almost missed this one. The title is not to be confused with other IWA World Championships held by other wrestlers. This version has only ever been held by Mil Mascaras since 1975. There's no record of the exact date of when he won it, and no information on who he defeated, only that he became the champion of the promotion in 1975 (perhaps late 74) and was never defeated. Mascaras drew large crowds in a rivalry with Ivan Koloff over the belt.
After the promotion folded, Mascaras continued to defend the title in other promotions. It appears Mascaras owned the title, so he booked himself to go over on any challengers. Despite being 73 years old, he never officially retired. He worked his last match in 2013 in a tag team contest, winning the Tokyo World Tag Team Championship.with Dos Caras.
But the most important thing to take from this is the message that many promotions died over the years. There continues to be remnants floating around, including this championship, which was the key to making Mil Mascaras Hall of Fame worthy. Forty years after the promotion folded, Mascaras continues to hold the title, which tells you how important history is to him.
This has been a long one, so thanks for staying with me. Apologies if there's any major blunders. It's late here so thanks again for reading. Good night.