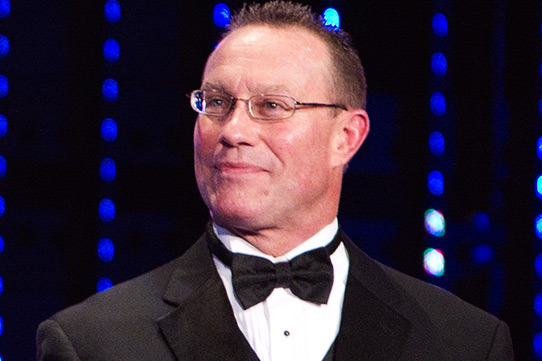 ---
16. Brian Adams AKA Crush (1964-2007) – 43 Years
Worked For: WWF, WCW
Achievements:WCW World Tag Team Championship (2 times)–with Bryan Clark. WWF World Tag Team Championship – with Smash and Ax
On August 13, 2007, Adams was found unconscious in his bed by his wife at their Tampa, Florida home. She called 911, but he was pronounced dead by paramedics when they arrived. The medical examiner concluded that he died as a result of mixing painkillers (Buprenorphine) with muscle relaxants (Carisoprodol) and sedatives (Chlordiazepoxide and Alprazolam.)
While the coroner determined the drugs in his system were consistent with what is considered "therapeutic levels," the combination impeded his respiratory system enough to kill him. There were no traces of anabolic steroids found in his system at the time of his death.
---
17. Brian Pillman (1962-1997) – 35 Years
Worked For: Stampede, JCP, WCW, WWF, ECW
Achievements: WCW Light Heavyweight Championship (2 times). WCW World Tag Team Championship – with Steve Austin. NWA World Tag Team Championship (1 time) – with Steve Austin
On October 5, 1997, Pillman was scheduled to wrestle Dude Love at the WWF pay-per-view Badd Blood: In Your House. As the show was getting close to bell time (7pm) and Pillman hadn't arrived, Jim Cornette was instructed to find his whereabouts.
Cornette contacted the Budget Tel Motel in Bloomington, Minnesota where Pillman had stayed that previous night and was told by the receptionist that the maids had found Pillman dead earlier that day at 1:09 Central Time. Pillman was 35 years old. An autopsy found that a previously undetected heart condition, arteriosclerotic heart disease, had led to his death; the condition had also led to the death of his father.
---
18. The British Bulldog (1962-2002) – 39 Years
Worked For: WWF, Stampede, WCW
Achievements: WWF Intercontinental Championship. WWF European Championship (2 times). WWF Hardcore Championship (2 times). WWF Tag Team Championship (2 times) – with the Dynamite Kid (1) and Owen Hart (1)
Smith died on May 18, 2002, after suffering a heart attack while on vacation in Invermere, British Columbia with his girlfriend, Bruce Hart's estranged wife Andrea Redding. An autopsy revealed that past anabolic steroid use may have played a part in his death, but no certain reason was found. It is apparent that stress, serious injuries, and the use of drugs took its toll on the wrestler. Bruce Hart claimed "Davey paid the price with steroid cocktails and human-growth hormones.". He was cremated, and ashes were given to family and friends.
---
19. Bruiser Brody (1946-1988) – 42 Years
Worked For: NWA, WWWF, WWC, DSW, AWA, WCCW, NJPW, AJPW
Achievements: NWA Brass Knuckles Championship (8 times). NWA American Heavyweight Championship (4 times). NWA American Tag Team Championship (3 times) – with Kerry Von Erich
On July 16, 1988, Brody was in the locker room before his match with Dan Spivey in Bayamón (a city near San Juan, Puerto Rico), when José Huertas González, a fellow wrestler and booker, asked him to go into the shower to discuss business. Brody entered the shower stall and a few minutes later a scuffle ensued, followed by two groans, loud enough for the entire locker room to hear.
Tony Atlas ran to the shower and saw Brody bent over and holding his stomach. Atlas then looked up at González and saw him holding a knife. When the paramedics arrived, Atlas carried Brody downstairs to the waiting ambulance, as, due to Brody's enormous stature, paramedics were unable to lift him. Brody's last words (as told to Atlas) were, "Tell my little son I love him[citation needed], and tell my wife I love her, too."
González, who always maintained his innocence, was initially charged with first-degree murder but was later reduced and tried for involuntary homicide. Dutch Mantell received his subpoena after the trial was over and Tony Atlas, who had given a statement and said he witnessed what happened refused to return to give his version in court and without his
testimony the district attorney had no case.
Some wrestlers (the Youngbloods) were scared to death and made no declaration to the police at the time of the events. However, Atlas declared what he saw to the police and came back to Puerto Rico several years later to work with the promotion. In January 1989, González was acquitted on all counts, citing self-defense. Carlos Colón testified at the trial.
---
20. Buddy Rose (1952-2009) – 56 Years
Worked For: AWA, WWF
Achievements: NWA Pacific Northwest Heavyweight Championship (8 times). NWA Pacific Northwest Tag Team Championship (12 times) – with Jesse Ventura (2), Colonel DeBeers (4), Rip Oliver (2), Stan Stasiak (1), Brian Adias (1), Curt Hennig (1), and Avalanche (1)
On April 28, 2009, Rose was found dead in his home in Vancouver, Washington by his wife. The medical examiner attributed his death to natural causes. Rose, who had struggled with his weight since the late 1980s, was morbidly obese, leading to problems with blood sugar and diabetes.
---
21. Buzz Sawyer (1959-1992) – 32 Years
Worked For: NWA, JCP, WWF, WCCW
Achievements: NWA National Tag Team Championship (2 times) – with Brett Sawyer. NWA Pacific Northwest Tag Team Championship (1 time) – with Brett Sawyer
Sawyer was wrestling on the independent circuit when he died from heart failure due to an overdose on February 7, 1992. Fellow wrestler Billy Jack Haynes contended that his death was a well planned hit because they were both part-time drug smugglers in the Pacific Northwest around the same time.
---
22. Chris Adams (1955-2001) – 46 Years
Worked For: WCCW, WCW
Achievements: NWA American Heavyweight Championship (4 times). NWA American Tag Team Championship (2 times) – with Gino Hernandez. WWF Light Heavyweight Championship
In April 2000, Adams and his girlfriend of four months, Linda Kaphengst, were both found unconscious inside a friend's apartment, the victims of an overdose of the drug GHB
and alcohol. Adams recovered, but Kaphengst died at a local hospital ten hours later.
Over a year later, Adams was indicted on a manslaughter charge, but on 7 October 2001, while awaiting trial, he was fatally shot in the chest during a drunken brawl with a friend, known as Booray AKA Brent Parnell in Waxahachie, Texas at his home. The gun owner claimed self-defense and was acquitted of all charges.
---
23. Chris Benoit (1967-2007) – 40 Years
Worked For: Stampede, NJPW, WCW, ECW, WWE
Killed his wife, son, and himself in June 2007. A suicide note was found with a notation from Benoit saying "I am preparing to leave this Earth". Christopher Nowinski asked Benoit's father for permission to examine Chris Benoit's brain, and tests showed he was suffering from CTE, a mental disease caused by head injuries.
You can keep up with all your wrestling news right here on eWrestlingNews.com. Or, you can follow us over on our Twitter and Facebook pages.