WWE acknowledged Nowinski's research by donating money to his company, and they appointied Triple H as one of the board of directors. CTE continues to be researched as it can only be diagnosed post-death. Many athletes diagnosed with CTE (including deceased American Football players) have shown cases of erratic behaviour, murder, and eventual suicide as they grow increasingly scared and confused by the loss of memory and severe depression.
---
24. Chris Candido (1972-2005) – 33 Years
Worked For: ECW, SMW, WWF, WCW, NJPW, TNA
Achievements: ECW (World) Tag Team Championship (3 times) – with Johnny Hotbody and Chris Michaels (2) and Lance Storm (1). WCW Cruiserweight Championship. WWF World Tag Team Championship – with Zip
At Lockdown on April 24, 2005, Candido (right) fractured both his tibia and fibula and dislocated his ankle during a steel cage match with Lance Hoyt against Apolo and Sonny Siaki. He underwent surgery the next day to have titanium plates and screws inserted into his leg. He was at the following Impact! tapings managing The Naturals to defeat America's Most Wanted to win the NWA World Tag Team Championship.
On April 28, 2005, Candido felt ill and his condition worsened during the day. He collapsed in the evening and was rushed to the Robert Wood Johnson University Hospital in New Brunswick, New Jersey, USA. He was diagnosed with pneumonia. Doctors drained his lungs, but Candido died soon afterwards. He was 33 years old. According to his brother Johnny, Candido died due to a blood clot, a complication from surgery.
---
25. Chris Duffy (1965-2000) – 35 Years
Worked For: WWF
Achievements: IWF Heavyweight Championship (2 times)
Died of a seizure in 2000, shortly before a scheduled match at an independent show.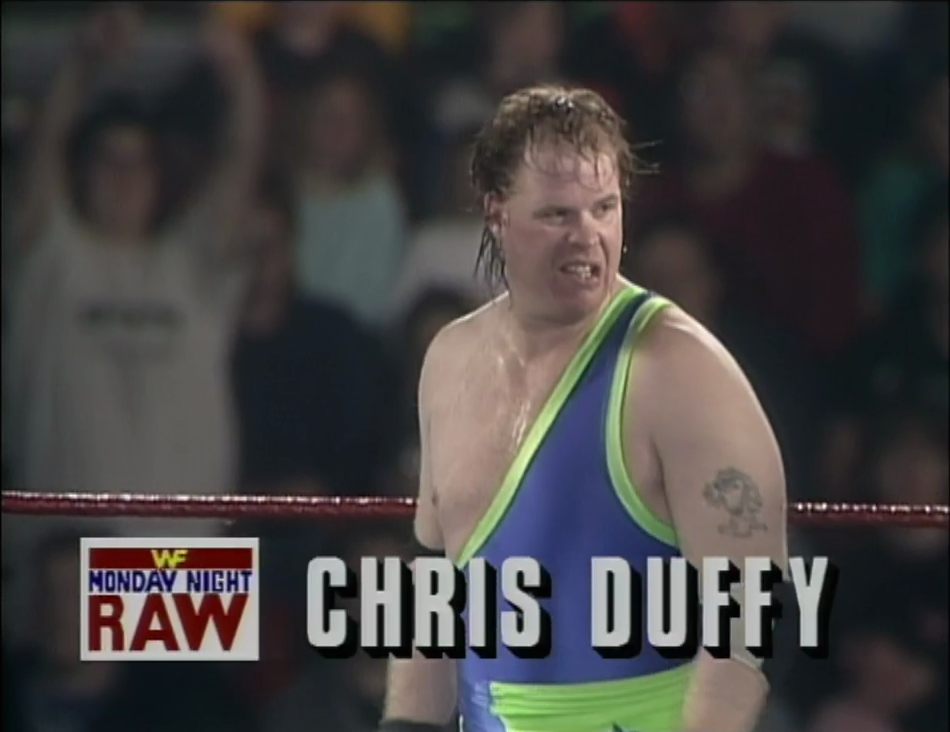 ---
26. Chris Kanyon (1970-2010) – 40 Years
Worked For: WCW. WWF
Achievements: WCW World Tag Team Championship (2 times) – with Diamond Dallas Page and Bam Bam Bigelow. WCW United States Championship. WWF Tag Team Championship – with Diamond Dallas Page
Kanyon had been suffering from bipolar disorder and he threatened suicide in the weeks prior to his death. On April 2, 2010, his brother Ken Klucsarits found him dead in his Sunnyside, Queens, New York apartment with an empty bottle of antidepressants. He left behind a note of apology for his family.
---
27. Crash Holly (1971-2003) – 34 Years
Worked For: WWE. TNA
Achievements: WWF/E Hardcore Championship (22 times). WWF European Championship. WWF Light Heavyweight Championship. WWF Tag Team Championship – with Hardcore Holly
Lockwood died on November 6, 2003, at his friend and fellow wrestler Stevie Richards' home in Florida. He was found partially clothed with a pool of vomit around his face. Empty bottles of the prescription drug Carisoprodol and a partially consumed bottle of alcohol were found nearby.
He had recently received divorce papers from his wife. His death, caused by choking on his own vomit, was officially ruled a suicide. He was buried in China Grove in Rowan County, North Carolina.
---
28. D.J. Peterson (1959-1993) – 33 Years
Worked For: AWA
Achievements: AWA World Tag Team Championship – with The Trooper
He died from a motorcycle crash on May 25, 1993.
---
29. David Von Erich (1958-1984) – 25 Years
Worked For: WCCW
Achievements: NWA Texas Heavyweight Championship (8 times). NWA Texas Tag Team Championship (2 times) – with Kevin Von Erich
David died during a tour with All Japan Pro Wrestling on February 10, 1984, before he was going to, among other matches, defend the United National championship belt he had won in Texas seven days earlier.
Many theories about what caused his death were proposed for many years after. The most popular theory suggests that David died of a drug overdose, as Ric Flair had mentioned this theory in his autobiography, claiming that Bruiser Brody (Von Erich's long-time friend) removed the evidence.
However Bill Irwin who was on that tour with David would say it was not drug related at all. The Von Erichs however claimed that David's death was a heart attack, caused by ruptured intestines resulting from acute enteritis.
---
30. Dean Hart (1954-1990) – 36 Years
Worked For: NWA
Achievements: NWA Hawaii Tag Team Championship – with Steve Strong
He suffered serious injuries when struck by a city bus. Diagnosed with Bright's disease during the late 1980s, he eventually died of kidney disease on November 21, 1990 at the Hart family mansion. His death was the day before the WWF Survivor Series that year, and commentator Roddy Piper stated that Bret dedicated his match to Dean.
---
31. Dick Murdoch (1946-1996) – 49 Years
Worked For: NWA, Mid-South, WWF
Over the years, several within professional wrestling who knew Murdoch have said he was racist and was a member of the Ku Klux Klan. In a shoot interview, Bad News Brown accused him of being a member of the Klan. This was also mentioned by Tito Santana in his autobiography, Tales From The Ring. Former WWE SmackDown head writer Alex Greenfield also related a story told to him by Dusty Rhodes about Murdoch driving him to a Klan party without telling him it was a KKK party beforehand.
Most recently, former wrestling star Rocky Johnson, father of Dwayne "The Rock" Johnson, claims Murdoch was a member of the Klan and that he once knocked him unconscious during a match stating during an interview, "Because he was KKK and didn't like blacks, he kept kicking me hard and punching me. I said, 'you hit me one more time, I'm hitting you back.' He hit me, and I knocked him out." Jim Ross also stated in his autobiography that Murdoch showed him his Klan membership card when they were on the road together. He died of a heart attack on June 15, 1996.
---
32. Dino Bravo (1948-1993) – 44 Years
Worked For: WWF
Achievements: WWF Canadian Championship (inaugural and final). WWWF World Tag Team Championship – with Dominic DeNucci
On March 10, 1993, Bresciano was found shot dead. He was 44 years old. He was hit by 17 bullets, 7 to the head and 10 to the torso, while watching hockey in his Vimont, Laval, Quebec home. His alleged role in illegal cigarette smuggling in Canada is popularly believed to have led to his officially unsolved murder.
---
33. Doink The Clown (1957-2013) – 55 Years
Worked For: NWA, WWF, WCCW, WCW, ECW
Achievements: IWA United States Heavyweight Championship. NWA Southwest Television Championship
Osborne was found dead on June 28, 2013, in the Plano, Texas apartment he shared with his girlfriend. Though no weapons were found near his body, and police have said the death appeared accidental, they launched a precautionary homicide investigation.
You can keep up with all your wrestling news right here on eWrestlingNews.com. Or, you can follow us over on our Twitter and Facebook pages.