PPV Aftershock: NXT REvolution
All I can say is wow. NXT's special has not only delivered,
but featured some of the best wrestling in 2014. If you are a fan of pure
wrestling, and not watching NXT, now is the time.
Kevin Owens vs. CJ Parker
Winner: Owens
Rating: 3/5
Fortunately, this was not a Corbin-style squash match. Owens
was able to showcase his versatility in the ring. Any newcomer to his work can
now see why there was a large amount of hype behind him. He has fascinating
abilities for a man his size. CJ Parker sold the moves just fine, and the blood
on Owens was icing on the cake. Successful debut.
Going forward: Owens will be feuding with Zayn (the fans win
with this feud), and CJ parker will continue to be a heel NXT jobber.
Lucha Dragons vs. Vaudevillians (Tag titles)
Winner: Lucha Dragons
Rating: 3/5
Was this the best match in the world? No. Did it showcase
two of the better tag teams? Yes. The Vaudevillians will likely capture the
gold in the near future, but it was understandable as to why they did not want
multiple title changes at this event. There were a few fun spots, especially
when English pushed Gotch out of the way to save him from the dive (how gentleman-like).
Going forward: The feud will continue, hopefully with the
Vaudevillians taking the gold sooner than later. Lucha dragons are polished
enough to start working more often on the main roster.
Baron Corbin vs. Tye Dillinger
Winner: Corbin
Rating: 2/5
Squash matches with Corbin helped build him, but it's time to
move on to real competition. The ongoing competition between Corbin and Bull should make for an interesting match. Corbin should hopefully be polished enough for a 5-10 minute match at this point. The squashed, Tye Dillinger, has a good look to him, with raw talent. He's had his brush with the main roster in the late 2000's on ECW
as well. One can hope he has some more time to showcase his skills in the future.
Going forward: Corbin vs. Bull, and Dillinger likely getting
the jobber treatment until they decide what to do with him.
Finn Balor & Hideo Itami vs. The Ascension
Winner: Balor & Itami
Rating: 3.5/5
I almost gave this a 4 simply because of Itami's GTS tease,
and Balor's entrance. This match showcased two of the guys who will be
headlining NXT in the very near future (likely soon as the Zayn Owens program
is over). The Ascension did a good job with the old-school notion of "we won't
let you tag your partner in." The double finisher was a nice spot. It was a
good end to the Ascension on NXT, who have been dominant in their tenure.
Going forward: Ascension to be called up to the main roster,
and Itami & Balor likely starting singles careers in NXT.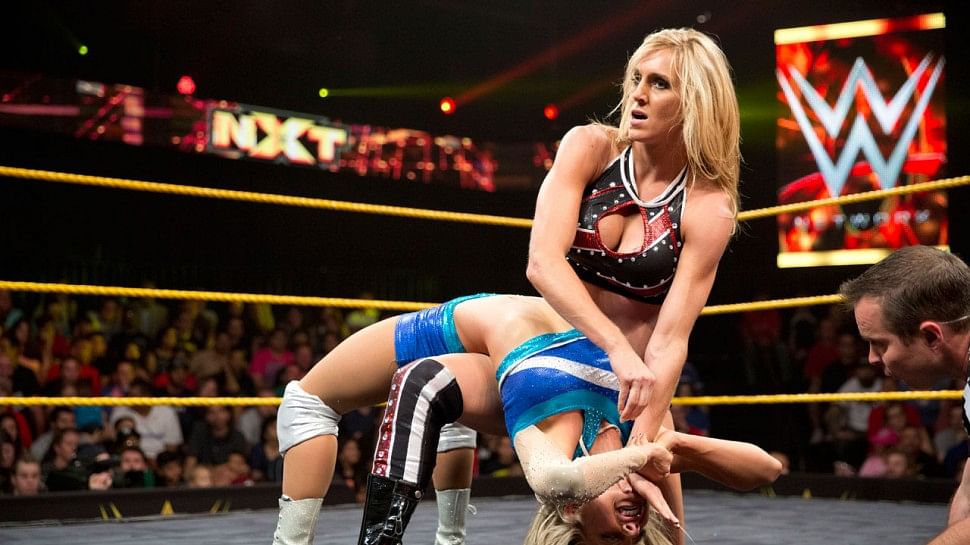 Charlotte vs. Sasha Banks (NXT Women's title)
Winner: Charlotte
Rating: 4/5
My constitution of a 5/5 women's match would be Trish
Stratus vs. Lita on the Raw main event, or Trish vs. Mickie James at
Wrestlemania 22. This match easily cracked my top 5 women's matches, and made
me care about women's wrestling again. The phrase "You're not here to fill a
spot, you're here to take a spot," needs to start being true in the womens
division on the main roster. They both sold well, had great spots, and had huge
pops from the crowd. It was nice to hear a "This is wrestling!" chant from the
fans, and I couldn't agree more. Both these women deserve to get strapped to a
rocket and get pushed to the top of the Divas division in the WWE.
Going forward: Charlotte (hopefully) to the main roster
soon, with Sasha close to follow.
Sami Zayn vs. Adrian Neville (NXT title)
Winner: Zayn
Rating: 4.5/5
A perfect ending to a great rivalry. These men have been
doing this a long time, and their works shows that. The match started off very
technical, and slowly built up to a near-perfect match. There were many close
calls, and huge pops. The crowd was entirely on Zayn's side for this one, which
was expected. Neville kept his babyface status with the hug at the end. Owens'
attack on Zayn at the end set up literally the only thing that could top the
Zayn & Neville rivalry. Both these men are 100% ready for the main roster,
and ready to displace some of the talent up there.
Going forward: Cross your fingers for these men to show up
in the Royal Rumble. Other than that, expect Zayn vs. Owens as his final NXT rivalry.
Neville will likely have another rivalry as well, although he could slowly be
featured on Smackdown at this point.
Overall, this was a fantastic show. These NXT specials have
always turned heads, and made many people think "this is why I watch wrestling."
Agree? Disagree? Have a different view on the ratings?
Comment below 🙂