Hi everyone! I would like to bring an injury & inactive wrestlers (and other on-air talent) update report. I will not limit the report to WWE's main roster as I'll include wrestlers from NXT, Impact, Ring Of Honor, and New Japan Pro Wrestling when applicable. I will not include talent who have yet to feature prominently on TV, referees, commentators, announcers, and backstage staff.
You can find the earlier report from March here. As there's been no change in their status, I decided not to include Darren Young, Eva Marie, Lance Archer, Sawyer Fulton, TM-61, Summer Rae, Tomoaki Honma, and Zack Ryder. You can find the reasons behind their absences in the above link. Kane is featured again due to new information.
1. Adam Thornstowe
He's one-half of the Reno Scum tag team with Luster The Legend in Impact Wrestling. Initially they looked impressive, til Impact announced Thornstowe suffered a torn bicep injury. He'll look to return ASAP to get in among Impact's growing tag team division.
2. Andrew Everett
The young 24-year old has done well in Impact's X-Division lately, but a torn meniscus sidelines him. Not much info on how serious it is.
3. Big Show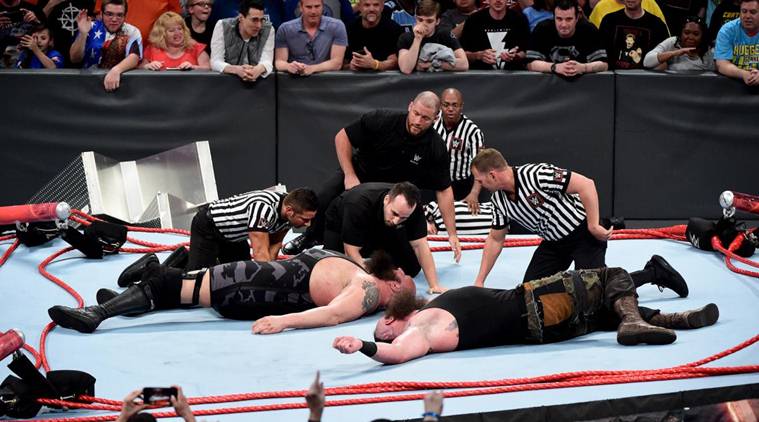 He's inactive after taking a suplex from the turnbuckle by Braun Strowman which resulted in the ring collapsing. He's been used sporadically the past year, as he and WWE know his time is limited. He's likely to enhance young guys til his retirement and certain Hall Of Fame induction. Despite comments about winding down, he's been working extra hard in the gym to get his weight down so he can keep up in the ring.
4. Bram
He was scheduled to team with Robbie E in Pro Wrestling NOAH's Global Tag Tournament, but a tweet he sent out showed him acting immature in a convenience store which made the rounds back to NOAH officials. They suspended him for his actions, despite his apology. For now, he can do nothing but wait for a return to Impact Wrestling.
5. Braun Strowman
Strowman underwent elbow surgery last month and scheduled to be out for six months. However, it's been reported WWE exaggerated the injury to surprise the fans by having The Monster Among Men return four months early. Big things are predicted for his future, including an encounter with Brock Lesnar and possible Universal title reign.
6. Chris Jericho
Y2J is a jack-of-all-trades guy who can't live life doing the same thing repeatedly. He puts everything he has into whatever he wants to do, which is why he's taken time off to promote his bands new album with a few tours planned. Fozzy provided the song "Judas" for NXT Takeover: Chicago.
7. Daniel Bryan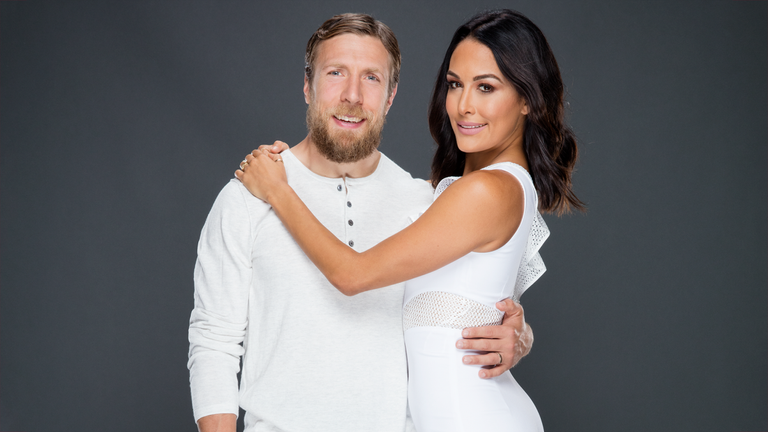 After the brand shuffle we haven't seen much of the "Yes!" man. Don't worry, he's taking time off for paternity leave. WWE plans on bringing Daniel Bryan and wife Brie Bella back to television in the future.
8. Diamante
She hasn't been on our screens long as the Latina of Impact Wrestling's LAX stable. She's unable to compete in matches due to an elbow injury, but might still show up in a valet role with Konnan & Homicide watching her back.
9. Emma
She can't catch a break. Firstly, she returned after being injured for months to fail miserably as "Emmalina". Secondly, the company promoted her return to action as "Emma", but she picked up a shoulder injury last month at a live event in Liverpool, England. She has to be frustrated at this point, I know I would be.
10. Ho Ho Lun
Who? Well he's a Hong Kongese cruiserweight on NXT and 205 Live. He was part of a group of Asian wrestlers brought in to appease markets in China, Japan, Taiwan and Singapore, but only Ho Ho's been used in any capacity thus far. Having not given much of an impression, he sits on the sidelines waiting to be used.
11. Jessie Godderz
His status is unknown as he hasn't been used on Impact lately, and he was moved to the alumni section on Impact's website over the past few days. Usually it means a contract is being negotiated or the wrestler has parted ways. He made comments last month about pursuing new projects.
12. John Cena
Since Wrestlemania he's spent much of his time on TV shows and working on movies Daddy's Home 2 and Ferdinand. He's expected to return to the Smackdown brand after filming, although it's hard to say if he'll reach the same dominance he once had.
13. Kane
He's looking to find a job for himself after retiring from the ring by running for a mayoral seat in Knox County as a Republican. Glenn Jacobs is a smart man, so I think we should wish him luck as he looks to secure a future in politics. As long as he doesn't set everything on fire he'll be alright.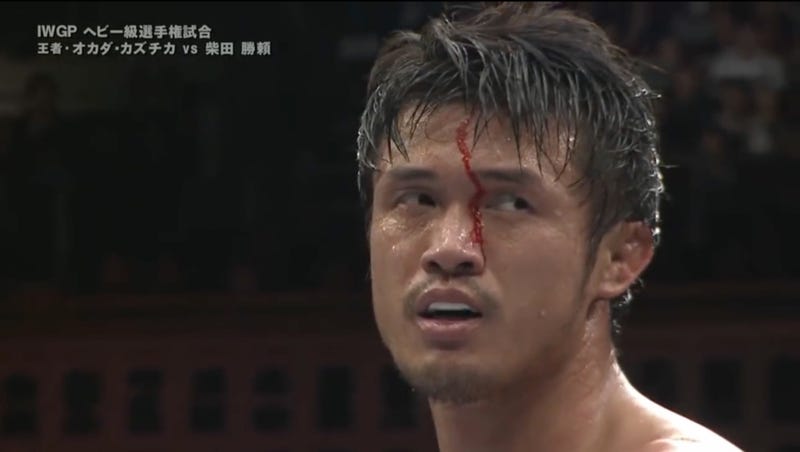 After losing the biggest match of his life against Kazuchika Okada for the IWGP title, Shibata collapsed backstage. It was found he suffered a subdural hematoma which required surgery immediately. Also an injury from a stiff headbutt from Okada, combined with dehydration caused Shibata to experience paralysis down the right side of his body. A few days later, Dave Meltzer commented and said he believed Shibata would never wrestle again.
15. Mark Henry
Again he's like Big Show, a veteran big man used sporadically to put guys over. He last wrestled on TV back in October in a win with The Golden Truth against The Shining Stars and Titus O'Neil. There's no telling if we'll see the Hall Of Pain make its destructive return. Feels unlikely .. but look at Goldust.
16. Nikki Bella
After John Cena proposed to Nikki at Wrestlemania, two days later she announced she would be taking time away from the ring. She's still contracted as a wrestler to the company, so chances are she will return after enjoying her honeymoon as Mrs. Cena.
17. Tommaso Ciampa
Ciampa why? Why did you have to get injured. I thought it was smart the way he explained his turn on DIY tag team partner Johnny Gargano, but it hurts to know we won't see the revenge match for a while. He needs surgery after rupturing his anterior cruciate ligament in his knee. Get well soon future NXT Champ.
18. Stephanie McMahon
Luckily for some of us, Stephanie crashed through a table at Wrestlemania 33 and hasn't been seen since. We got Kurt Angle as a suitable replacement, and the only reason for the absence states she needed "time off". Stephanie could be finishing her memoirs; which she announced on her Twitter account last year.
19. TK O'Ryan
(pictured on the right) He works in Ring Of Honor as one of three wrestlers who call themselves The Kingdom. At the ROH 15th Anniversary show in March, O'Ryan overshot an Asai Moonsault and broke his leg on a guard rail. At 27-years-old, I predict he'll be back in a couple of months causing havoc with Matt Taven and Vinny Marseglia.
20. Tyson Kidd
I should have included him in March. Almost two years ago to the day, Tyson Kidd was severely injured after taking a Muscle Buster from Samoa Joe in a dark match. Kidd tweeted that only 5% of people survive his injury and he had 16 staples, four screws, and a rod inserted in his neck. Dave Meltzer was quoted as saying "It is unbelievable that Tyson Kidd came through as well as he did". It's difficult to say if he will ever be able to return to the ring. While the Muscle Buster was used safely in ROH, TNA, and NXT for many years against all opponents, the finisher has not been used since Joe moved up to WWE's main roster.
I'll likely wait a few months to make a third report. We have to remember injuries happen, and risks are taken every time they step foot in the ring. As for inactive wrestlers, they usually have a good reason .. and if not, it's up to them to prove their worth. Thanks for reading everyone!
You can keep up with all your wrestling news right here on eWrestlingNews.com. Or, you can follow us over on our Twitter and Facebook pages.