Good day, folks! Today, I'm here to serve as your guide to the historic AEW All In 2023 event at Wembley Stadium in London. Before we delve in, credit is due to Hooked On Wrestling for some of the information provided. Yet, I'd also like to add my own insights and ideas for those embarking on this upcoming weekend journey.
I'll be attending the event, sharing pictures and videos with you in the days to come. My role is that of a wrestling enthusiast; I won't represent any official capacity, but I'll have some free EWN cards should we cross paths. Let's start with the basics.
When Does AEW All In 2023 Start?
The main show kicks off at 6pm (1pm EST/10am PDT), preceded by the "Zero Hour" kickoff at 5pm (12 EST/9am PDT).
Can I Still Get Tickets To AEW All In 2023. Where Do I Get Them?
Though reports indicate over 80,000 tickets sold, the show isn't fully sold out. A limited number of tickets remain, offering an opportunity to be part of this historic event. Ticketmaster offers prices ranging from £25 to £2,000 for the few remaining ringside seats.
Getting To Wembley Stadium
For those not arriving by car, three main routes lead to Wembley. Travel specifics depend on your starting point within London. You should consult with the TFL.Gov.UK website to plan your journey.
For example, my journey begins near Kings Cross Station. Options include the London Underground Metropolitan (Purple) line or London Overground's Chiltern Railways train from Marylebone station. Either trip takes a mere 10-30 minutes to reach Wembley Stadium. The Metropolitan route leads to Wembley Park, providing a breathtaking view of the stadium. Alternatively, Chiltern Railways disembarks at Wembley Stadium train station, a short distance from its lesser-used south side.
You could also opt for the London Underground Jubilee (Silver) line, bearing in mind more stops, or the Bakerloo (Brown) line, which takes you to Wembley Central station, slightly farther away but within walking range.
For those journeying from outside London, crucial train information follows:
Kings Cross Station is closed on August 27th for maintenance. Plan accordingly, considering arriving a day earlier to dodge this snag.
If, like me, you're visiting London the day before for sightseeing, be aware of the August 26th train strikes affecting major companies like LNER. These strikes stem from financial struggles post-pandemic, and it's prudent to verify your scheduled journey's status.
In case of train troubles, consider a coach from cities like: Birkenhead, Birmingham, Bournemouth, Bridgwater, Bristol, Cardiff, Chelmsford, Chester, Colchester, Coventry, Exeter, Ipswich, Liverpool, Leeds, Leicester, Manchester, Milton Keynes, Newport, Norwich, Northampton, Nottingham, Portsmouth (Cosham), Reading, Sheffield, Southampton and Taunton.
Big Green Coach may offer an alternative, potentially introducing you to fellow wrestling enthusiasts. If hotel stays aren't your preference, this service pledges a post-event ride home. You can find the website here.
Where Do I Enter Wembley Stadium?
Upon obtaining your AEW All In ticket, a colour and designated turnstile come your way. Recent news reveals Wembley Stadium's 30-minute earlier opening, allowing entry from 3.30pm. This adjustment eases congestion for newcomers and facilitates pre-show provisions before Zero Hour at 5pm. Referencing a 2018 NFL game image, the coloured zones and associated turnstile letters are indicated below.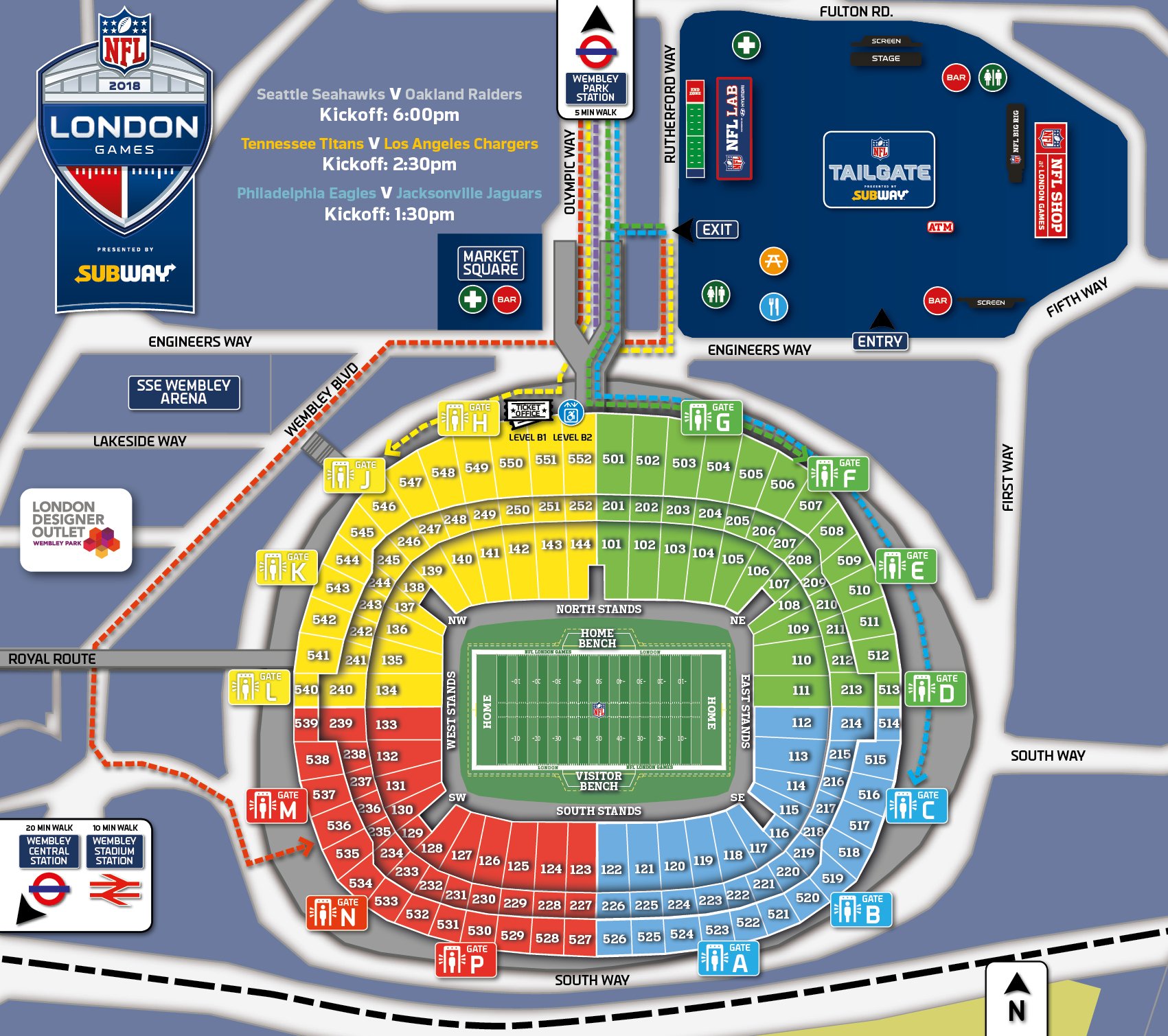 For clarity: those entering from Olympic Way should follow prescribed paths. If your ticket specifies Blue, veer towards the southeast side; if Red, access through Wembley Park Boulevard onto the southwest side.
VIPs without assigned colors enter through the main north entrance. Each ticket equipped with a designated turnstile letter. Remember, re-entry isn't an option, so ensure preparedness. Adherence to Wembley Stadium's code of conduct is vital – and forbidden items are detailed on their website here.
How Do I Enter Wembley Stadium?
Embracing contactless trends, the stadium expects attendees to have tickets saved on smartphones. Consider adding your ticket to your Wallet app or using the Wembley Stadium Tickets app. Screenshots won't work, as the QR code updates frequently to deter scams. While I haven't tried this myself, there's a video illustrating ticket scanning and smooth turnstile passage, complete with a comical paper ticket mishap.
Sharing e-tickets with companions is permissible, useful if they're entering separately. When ushering multiple people with your phone, it likely entails scanning, allowing entry, and repeating for each person.
Battery drained before entry? Seek the support desk for a recharge. But prudent planning – a fully charged phone – averts this issue. Avoid being caught off guard, as depicted in this video's comic illustration.
Getting Back From Wembley Stadium After AEW All In 2023
The return journey post-event occupies many minds, especially newcomers. As the residence of England's Football National teams and host to diverse international events, Wembley Stadium's stewards are adept at crowd management.
Remember, patience is key; proceed to your chosen station upon the green light. Early departure circumvents queues, although rest assured, the stadium excels at shepherding masses towards car parks and train stations. Stranding is not a concern.
Wembley Park witnesses most train-bound travelers, yet if large crowds unsettle you, Wembley Stadium station is an alternative. Both lines amplify service after events. All In is likely to end slightly before Wembley Stadium's 10pm closing time.
Getting Around London
London's transport infrastructure is designed for convenience. Ensure your contactless card or smartphone is ready for seamless check-ins and check-outs at train stations, charges adjusted accordingly.
Always use the same method for both actions to avoid double charges or penalties for perceived evasion. Inquisitive? Don't hesitate to ask. Buses require check-in alone; no check-out procedures are necessary.
Are There Other Events Happening Before/After All In?
A slew of events surrounds All In; Hooked On Wrestling's link, mentioned earlier, reveals the lineup. Some of AEW's earlier events are sold out. Bigger side events are likely fully booked by now, so don't fret over them.
Will wrestlers grace the vicinity pre-show? It's uncertain for those not attending paid events. Any presence would likely garner swift crowds, but VIP treatment might enhance chances of interaction.
Will I Get Soaked If It Rains During All In?
Rain during All In prompts a pertinent question. Wembley Stadium's retractable roof, devised to counter such situations, faced issues over time. Though efforts have rectified concerns, watertight assurance eludes the structure. As of June 2023, its website states the following:
"One of the questions we're asked the most is: does Wembley have a roof. The answer is yes! The sliding cover sits 52 metres above the pitch, providing cover for every seat in the stadium, though Level 1 guests may get wet if rain falls at an angle."
Level 1 attendees occupy pitch-side spots; pitch seats, with the potential for premium views, aren't explicitly addressed. Those perched on the pitch, anticipating rain, might ponder carrying compact umbrellas. Larger ones, however, are prohibited from the stadium.
What Else Can You Tell Me About Wembley Stadium?
Be prepared for pricier food and beverages. To save on costs, enjoy a hearty meal around 2pm. Anticipate a five-hour endeavor, inclusive of Zero Hour. Locating nearby restrooms is wise, because the chances are you will need it at some point.
Binoculars find a welcome spot; high-seated individuals could benefit. Pitch-side view from my perspective is uncertain, but Wembley Stadium's layout and the wrestler's entrance path suggest pitch-side watchers might make use of them.
Lastly, consider sharing if any additions to this guide would enhance its value. Match cards remain unconfirmed; updates might emerge. Gratitude for your time and engagement. Thank you for reading this guide on AEW All In 2023!
Also Read: Updated Card, Thunder Rosa's Role Revealed
You can keep up with all your wrestling news right here on eWrestlingNews.com. Or, you can follow us over on our Twitter and Facebook pages.