Tyler Breeze (28)
Despite his long tenure with NXT, Breeze has yet to leave his mark on the main roster. It's a shame because he was well-liked by NXT fans, and he had a match against Jushin Liger, but it didn't help his cause. He's been in several matches, but he's continued to be used as an enhancement talent. Is he lost in the shuffle? Or does his gimmick need a tweak?
Regardless of his current position, he's a hard-working professional. He gets it done, and I believe he could play any character. It's hard to pick fault with his work ethic, so it's only a matter of time til Breeze gets his day.
Trevor Lee (22)
The current TNA X-Division Champion is the youngest guy on the list. He was trained by Jeff and Matt Hardy, and wrestled in OMEGA, Global Force Wrestling, and Pro Wrestling Guerilla before making his debut in TNA.
While his look needs work, he's a clean slate with plenty of potential; and he wrestles like a veteran, so it's easy to forget he's only 22. With Gregory Shane Helms backing him up, it's hard to imagine anyone beating him anytime soon. If Trevor Lee has made it this far in two years, how far he will be in 10 years?
Apollo Crews (28)
Looks like a star, and is a hybrid powerhouse/high-flyer. He's cool on the microphone, and had an immediate impact in NXT. But his current status is questionable, he's been on a hiatus from the NXT TV tapings since losing to Baron Corbin (aside from a match against Alex Riley). The only way is up for the Apollo Nation when he returns to the TV product full-time.
Jade (26)
Mia Yim has worked for ROH, CZW, Shimmer Women Athletes, Shine Wrestling, and has wrestled in Japan. She's been working in TNA for a year as a member of The Dollhouse faction. She's regarded as the youngest, and most experienced member, so after Taryn Terrell and Awesome Kong (former leaders) left the promotion, Jade became the new leader.
Lately she's been feuding with Gail Kim over the TNA Knockouts Championship. Time will tell if Jade is able to defeat the experienced veteran to become the #1 Knockout.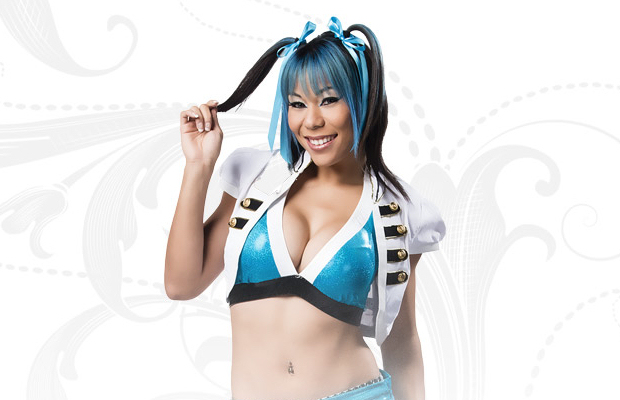 Bram (29)
While Bram is stuck in 2006, I'm here in 2016 knowing he's going to get a push soon. He's worked in TNA Wrestling for two years, and it's time he moved up the ladder. With the news of Bobby Roode and Eric Young leaving, there's room for the new blood to rise, and the company needs it because they can't rely on the TNA Originals anymore.
Bo Dallas (25)
He reminds me of a young Edge. He's got the facial expressions, he can sell a story, but he does need to drop the gimmick if he's ever going to be taken seriously as a champion. He's part of the Rotunda family, so WWE will do right by him, but for now he's providing some comic relief in The Social Outcasts til a spot opens up. He's the youngest male wrestler on the main roster.
Ricochet (27)
I don't get to see his matches often, but when I do I'm nothing short of impressed. He's got many unbelievable high spots and smooth transitions. He also knows how to slow the pace when necessary, and sell offense. He's one half of the IWGP Junior Heavyweight Tag Team Champions with Matt Sydal.
Becky Lynch (29)
She's one of only a few NXT Women's wrestlers to be promoted to the main roster without winning the NXT Women's Championship, and the only one to challenge for the Divas title at Wrestlemania. Along with Charlotte, Sasha Banks, and Bayley, Becky is part of the Divas Revolution, and it's brought an all new importance to women's wrestling in the WWE.
Kyle O'Reilly (29)
O'Reilly is one-half of the tag team reDRagon with Bobby Fish, and is a former multi-time tag team champion and PWG World Champion. He's recently challenged for the ROH World Championship, and while he wasn't successful, he's shown he can be a singles wrestler challenging for the biggest prizes. I would like to see some character development, but it's not a big deal as he lets his ring work do all the talking.
Bayley (26)
How can anyone not like Bayley? She's a babyface who isn't overly annoying, and doesn't come across as polarizing. She continues to be NXT Women's Champion for a reason; she's earned it and deserves it. She's probably the most likeable women's wrestler since Lita, which is a pretty strong comparison to make, but I believe she will flourish on the main roster as plenty of children watch and will be attracted to her right away.
Xavier Woods (29)
Xavier is one of the reasons to watch WWE these days. He's exceptionally entertaining, and is clearly the driving force behind the creativity of The New Day. I see him as the true leader of the group, and while Big E is the favourite to be a future WWE World Champion, I wouldn't be surprised if Xavier carves his own legacy in the next decade with some solo achievements.
Sasha Banks (24)
The Boss is going to be Divas Champion soon. I'm predicting she will win at Wrestlemania, that's how much faith I have. It's time for the Divas Division to crown new champions, and bring in competition for years to come. Sasha will be part of that, and in 15-20 years time, we will be celebrating the career of one of the greatest.
Charlotte (29)
Continuing the trend, Charlotte is another young woman with years ahead of her. With her father Ric Flair at her side, and the Divas Championship on her shoulders, it's safe to say she's made it. This years Wrestlemania may see one of the best women's matches in the history of the event, and it's all over Charlotte's title. She's going to continue to use the Flair name for heat, and show her impressive ability.
While she's lacking on the microphone a little, we have yet to see the best of Charlotte. Just like the other former NXT women, she has things to work on, but her abilities are still miles ahead of Nikki Bella and other less deserving Divas Champions. Charlotte looks like a champion, and whoever beats her will go over in really good fashion; and that's what you need from a heel champ!
Paige (23)
The former two-time Divas Champion hasn't done much lately. She's been lost in the mix since Charlotte, Sasha and Becky were promoted, which makes sense as Paige had her time in 2014. She's the youngest Diva on the roster, and one of the youngest on the list, so when you consider what she's done so far; it makes sense to place her here.