As a tribute to the return of "Woken" Matt Hardy, I've gone back to my earlier work; a four-part series on Matt & Jeff's run in Impact Wrestling from 2010-2016. I made the series back in April, and I planned to link the parts together in to one wonderful collection; but it slipped my mind and the timing never felt right.
So with that in mind, this is a re-post of four articles in one .. however, I have taken extra care and made improvements. They will be less filler (cutting intros/conclusions), and I will include a delightful gallery at the end. This is more for fans who 1) never saw Matt & Jeff when they worked for (TNA) Impact, or 2) missed the original series in April. For those who are neither? It still might be worthwhile to see the extras. I've added more to ensure the collection is of the highest quality.
In the past, I have defended Impact's decision to retain the gimmick as I felt they should've been given more credit for allowing it to flourish. I believe creative guys like Jeremy Borash and Billy Corgan contributed, and shouldn't be dismissed just because they worked there. I do not deny that Matt put the most into it, not just creatively .. but with production as well. More on that later.

The four-part series was made for fans who are unaware of how the broken universe came to be. Now Matt has "woken", I think recent events may have confused some WWE fans. They don't know how, or why he's changed, and even more baffling is the reaction to the reveal. Hopefully this long, yet informative collection will clear the air and give more clue to why Matt is acting so strangely.
---
Chapter 1: Immortal Intoxication.
The Hardy Boyz made their long-awaited return to WWE at Wrestlemania 33 this year. In the first chapter I will highlight their key moments between 2009-2015. In 2009, while feuding with CM Punk over the World Heavyweight Championship on the Smackdown brand, Jeff Hardy accepted a match with the stipulation where if he lost he would be forced to leave WWE. The scripted stipulation gave Jeff time off to recover from a neck injury, two herniated discs in his lower back, and a condition known as restless legs syndrome. While he was away, Matt continued to work for WWE in its mid-card.
An event which came as a surprise to WWE officials, Jeff decided to sign with TNA Wrestling and appeared on its special live Monday night episode of Impact on January 4th, 2010. Jeff worked as a top babyface til Bound For Glory 2010. In the main event, he won the TNA World Heavyweight Championship (in a triple threat against Mr. Anderson and Kurt Angle) with help from Hulk Hogan's Immortal stable; establishing himself as a heel champion.
Meanwhile, Matt was sent home from WWE's European tour as they believed he was not in the right state of mind; and Matt later denied being sent home. He went on YouTube to express his feelings on the WWE product and made comments suggesting he was trying to get released. Five days after Jeff won the TNA title, WWE granted Matt's wish and released him from his contract.
Jeff became the #1 guy in TNA thanks to Hogan's Immortal stable. Jeff explained his actions while claiming to be the "Anti-Christ of Professional Wrestling".
Matt debuted with TNA during the Genesis 2011 PPV, and worked a match with Rob Van Dam. And let's be honest .. he didn't make much impact. He became a lackey for the Immortal stable to help Jeff retain his title. His weight became a running joke (Fat Hardy) among wrestling fans.
Jeff lost the "Immortal" title for a second time, before challenging champion Sting at Victory Road 2011. Jeff was not in a good place .. as he was found backstage intoxicated. Somehow, he was allowed to enter the Impact Zone to work with Sting. He was in no fit state to wrestle, so during Sting's entrance an audible was called.
Eric Bischoff charged down to the ring to tell Sting the new finish while using the line "This match will be No Disqualifications" .. just to have an excuse to be there. And much to Jeff's surprise, Sting forcefully dropped him with the Scorpion Death Drop and covered him for the pin. Jeff tried kicking out, but Sting put all of his weight on and the referee counted the fall. The fans chanted "bullshit" as Sting retorted with "I agree". TNA told Jeff to go home and get sober.
Matt soldiered on while Jeff was away .. but saw little success challenging for Sting's World title, or Beer Money's Tag Team titles (w/ Chris Harris). In June, it was reported TNA had suspended Matt .. and in August, Matt was arrested for DUI (drove his Corvette into a tree), forcing TNA Wrestling to release him from contract the same day. At the end of August, Matt posted a video which suggested he was planning on committing suicide:
"Goodbye, World…
My time here is Almost complete…
I only have a few hours & minutes…
I loved you all…
Regardless of how you felt about me…
I'll miss you all…
September 23, 1974 – August 31, 2011."
It was a hoax apparently. Many fans called the police as they were concerned for his health. After it was confirmed to be a hoax to garner attention, Jim Ross chimed in with his thoughts: "Matt Hardy fiasco totally embarrassing & inexplicable. Alleged suicide you tube got him noticed…sadly in absurd way. Matt, seek answers." Matt announced his retirement from wrestling on September 1st due to injuries.
Only two days after Matt's release, TNA announced his brothers return. Jeff returned to Impact and asked the audience for forgiveness. While Jeff was given a chance to prove himself, Matt returned to the indy scene with a win over old rival MVP. Matt returned to Ring Of Honor in September, and Jeff worked through the Bound For Glory series to become number one contender after staying clean for months. Jeff defeated Austin Aries for the TNA World title at Bound For Glory 2012, with TNA claiming he had completed his 'Road to Redemption'.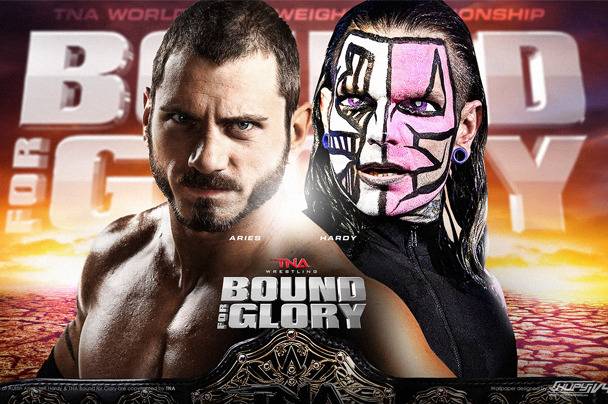 Jeff defended the title against challengers Kurt Angle, Austin Aries, Bobby Roode, and Christopher Daniels. After five months on top, Jeff was dethroned by Bully Ray after revealing himself the leader of the Aces N' Eights stable. Throughout 2013, Matt unsuccessfully challenged for ROH titles while Jeff spent the rest of the year feuding with Aces N' Eights and challenging for the X-Division title.
In November, Jeff said he'd had enough of Dixie Carter's backstage politics and "quit" the company. On January 1st 2014, Matt and wife Reby Sky assaulted each other in a Hampton Inn. They were both arrested for assault and battery, and later released on bail. Matt and Reby placed restraining orders on each other, but only a couple of weeks later they were together again. Before and after photos below.
Matt worked in ROH's mid-card for the first half of 2014. In February, a wild creature known as "Willow" appeared in Impact Wrestling via video vignettes. Jeff worked as Willow for a few months in feuds against Ethan Carter III, James Storm, and the tag team of Magnus & Bram. The gimmick failed to get over.
In July, Matt opted out of his ROH contract and returned to TNA. Jeff dropped the Willow gimmick before introducing his brother so they could re-unite as a tag team. They challenged for the TNA tag titles at Destination X, but were defeated by The Wolves.
The Hardys spent the rest of 2014 and early months of 2015 challenging for the tag team titles, while feuding with James Storm's stable The Revolution. On March 10th, the company offered Matt a new full-time contact, and only six days later, The Hardys won the tag titles for the first time in an Ultimate X match. However, they were forced to relinquish the belts in May due to Jeff breaking his leg in a dirt bike accident.
---
Chapter 2: Big Bang Of The Broken Universe.
While Jeff was home recovering, Matt showed interest in the TNA World title. After proving himself, he was slotted in to the main event of Bound For Glory against Drew Galloway and undefeated champion Ethan Carter III. With Jeffs help (guest referee), Matt won the match and the title. His wife and son Maxel Hardy celebrated with them in the ring. However, the title was vacated the next day after EC3 filed a storyline injunction against the company (due to Jeff's interference) to keep Matt from appearing on future episodes.
On January 12th, Jeff returned from injury and challenged EC3 to a World title match, but EC3 refused as he believed Jeff had not earned it. On January 19th, Matt defeated EC3 for the title after an unexpected double turn. Matt turned heel and acquired the services of EC3's former employees Tyrus (Brodus Clay) & Rockstar Spud. He introduced Reby Hardy as his manager, and his image became "Iconic"; a typical sell-out"champion hiding behind an entourage.
Jeff did not appreciate Matt's new approach, so he challenged his brother for the title on January 26th; but their match didn't start as he was sneak attacked by Eric Young and Bram. Jeff was sidelined again while Matt continued to lord over Impact Wrestling. Jeff returned in March to challenge in a triple threat including former champion EC3. Matt retained, but not for long as Drew Galloway cashed in a world title briefcase to claim his first World Championship. Two weeks later, Matt was unsuccessful in his rematch. Matt blamed the loss on his brother, growing obsessed with ending his brother's career. In April, the broken universe was born in the aftermath of a brutal I Quit match which ended with no winner.
In the coming weeks his character changed dramatically. He lost the iconic look, and appeared zombified with a distorted British accent. He referred to Jeff as "Brother Nero", and repeatedly claimed he would delete Jeff from existence. His entrance music changed to a soft piano melody. Tyrus and Rockstar Spud confronted him over their jobs, but they were unable to complete their tasks so they were no longer required.
Despite portraying a villain in the feud with Brother Nero, fans got behind Broken Matt when he signaled to "Delete!". Rockstar Spud and Tyrus lost a ladder match to Jeff, giving Brother Nero the choice of stipulation for The Hardys match at Slammiversary. Jeff challenged Matt to Full Metal Mayhem (AKA TLC). In the buildup, Broken Matt introduced his home as the "Hardy Compound", and new characters including: Gardener Señor Benjamin (Reby's real Father), and Vanguard 1 (a drone) as the head of security.
The segments showing Jeff's visit to the Hardy Compound were produced with a low budget. The encounter between Jeff & Matt in the ring .. ended with Reby throwing a plastic baby doll (which Jeff assumed was Maxel) to Brother Nero, giving Matt the opportunity to hit the Side Effect through .. what can only be described as an ancient table. It's about as easy to watch it, than it is to describe it. Certainly unique, but it had not yet grabbed the fans attention.
When I first saw it, I thought it was one of the stupidest things I'd ever seen.  A drone? Using a baby doll to imitate Maxel for heat? Jeff's poor acting? I guess they had to start somewhere. Brother Nero defeated his broken brother at Slammiversary .. but the feud had a long way to go yet. After Jeff won Full Metal Mayhem, Broken Matt became even more obsessed with deleting him. A couple of weeks later, he challenged Jeff to a final battle (AKA "The Final Deletion") with the entire Hardy brand on the line. Deletion Intensifies!
The first special match to take place at the Hardy Compound on television. It was silly, dangerous, wacky, cheesy, and unexpectedly delivered. They weren't lying, when they said you wouldn't see anything like it anywhere else. Post-match reaction was mixed, with some claiming the gimmick was a huge success (and the sole reason to watch) .. while others complained over terrible production, and how dangerous they were with the fireworks. They were convinced the company had ruined The Hardy Boyz; when most of the ideas came from the minds of Matt & Jeff.
---
Chapter 3: Delete! Obsolete! Forever!

Just like EC3 had done only a couple of months before, Jeff found his career being controlled by another. Matt won the rights to control the Hardy brand after winning at Final Deletion, therefore, he refused to give his brother any meaningful airtime. He found it more interesting to belittle Jeff for his spot monkey antics and how he sacrificed himself for the creatures. He referred to Brother Nero as "Obsolete", and each week he & Reby drilled the label into him through sheer, (and very annoying) repetitiveness. It was difficult to endure .. but it was the start of something refreshing for Jeff's career.
"I'll fade away and classify myself as Obsolete … Obsolete!" – Brother Nero.
Rather than getting depressed about it, Jeff remained strong for his fans and hoped he could break the shackles one day. But it wasn't to be .. as his older brother had no intention of releasing him. Around this time, the fans got behind the Broken gimmick as they enjoyed the silly antics and catchphrases. The focus on Matt's character, the words "Delete" and "Obsolete", all designed to garner heel heat with the audience .. became the most interesting part of the show..
The Broken Universe had evolved in a way they had not anticipated, so The Hardys needed a tweak to turn them both into fan favourites. Best way? Make Brother Nero embrace being The Obsolete Mule. During an event at Juggalo Championship Wrestling, Brother Nero grew tired of being punished, and took out his frustration on some broken furniture. Fans questioned if he'd lost his mind, or was taking drugs again .. but really it was a glimpse at Brother Nero's future.
Broken Matt announced he and Brother Nero would team together to earn a shot at Decay's tag team titles. Nero was reluctant, but did as instructed and defeated The Tribunal on his own. After the match (7min mark), Matt told Nero he liked his passion. Nero took it offensively (like Matt implied he lacked passion before) and took it out on The Tribunal with repeated Twists Of Fates. After driving coach Al Snow through a table, he told Matt the only person who punishes Brother Nero is himself. He launched his own body to the outside through a table. Jeff embraced the name "Obsolete Brother Nero" as they laughed maniacally together.
With Brother Nero embracing the broken universe and his brother's leadership, they prepared for the "Ascension to Hell"; a ladder match with four tag teams challenging to become #1 contenders. In the video below, Broken Matt is seen training his brother in the art of winning a ladder match without sacrificing your body at every opportunity like a brainless spot monkey.
On August 18th, The Broken Hardys won Ascension To Hell and became #1 contenders to Decay's tag team titles. It wasn't long til The Death Dealers confronted The Broken Hardys and threatened to take Matt & Reby's son. Reby Hardy took a more active role at ringside as their manager, to even the odds by fending off Decay's Rosemary.
With much anticipation, Decay accepted an invite to the Hardy Compound for a brawl dubbed "Delete Or Decay". Decay planned an invasion to kidnap Maxel Hardy. Brother Nero saved Broken Matt from being struck by Abyss' spiky friend Janice; and was severely wounded in the process. Rosemary walked out of the house holding Maxel, but was confronted by Broken Matt. Her attempts at hitting him with The Mist backfired, as he used divine powers bestowed to him by the Seven Deities (more on that later) to inhale, and exhale the mist back in her face.
The Hardy family won the battle, but the war had only just begun. The aftermath saw Broken Matt & Brother Nero visiting the "Lake Of Reincarnation", a lake on the grounds of the Hardy Compound with magical healing properties. While Matt hoped the lake would heal his brother's injury, he did not foresee Jeff's character reverting back to an ugly anti-Christ "Immortal" state. Luckily .. after a second attempt, the rightful Brother Nero returned and declared Decay obsolete.
They went to Bound For Glory united with the goal of taking the titles from Decay. As announced by Broken Matt, their title match would go down in history as "The Great War". At the PPV, during the brother's entrance, Reby joined in by playing their theme live on a piano. The match was like nothing we'd ever seen before. Someone had the brilliant idea of bringing a bucket of water from the Lake Of Reincarnation, meaning Brother Nero could use it to transform several times: form of Willow, Itchweed, and again back to Brother Nero.
On this special occasion, Broken Matt gave his brother permission to be a spot monkey. Nero finished Decay with a Swanton Bomb off a high ladder through Crazzy Steve and two tables, which made them two-time TNA Tag Team champions. In their return match, Decay unsuccessfully challenged in a Wolfcreek Steel Cage.
After a couple of months fending off all challengers, The Broken Hardys were ambushed by an anonymous group called the DCC. The feud heated up with the three members of DCC continuously getting the upper hand, and Broken Matt took a turn for the worse as he forgot who he was after being knocked off a forklift. He had his family to support him, as Brother Nero and Reby did everything to make him remember who he was before. Matt became a shell of his former broken self.
Terminology Of The Broken Universe
Delete! – To defeat your opponent and render them obsolete forever.
Obsolete! – To recognize you require the guidance of Broken Matt, and any resistance will be met with full deletion.
"I just had a premoneeetion (premonition)!" – Broken Matt has the power to see in to the future through the powers of the Seven Deities. This means he can plan strategy ahead of time for a tactical advantage.
Spot Monkey – Matt often refers to "Bucks Of Youth" (aka The Young Bucks tag team) as spot monkeys due to their dependence on high spots. Brother Nero was also a spot monkey before his obsolete transformation.
Vanguard One – Often found making jokes as bad as Jerry Lawler. As it's not human and doesn't have arms/hands, referee's would not accept it in matches as a referee. It's main assets include being a top-notch security guard, and later gaining the ability to teleport people across large distances in a few seconds. May also be perverted and rude.
Senor Benjamin – He's a little more .. than just a gardener. Senor Benjamin often babysits Maxel, as well as providing interference in matches. He's sleazy, and perhaps a little creepy, but he always keeps the garden in pristine condition and is reliable in a crisis.
Skarsgård the Dilapidated Boat – Broken Matt sometimes uses the boat to gather his thoughts on the Lake Of Reincarnation. While on shore, the boat serves as a shield against firework attacks. Matt considers the boat a long-time friend of the family.
Lake Of Reincarnation – It has mystical properties of healing and transformation. Its special water can be transported elsewhere and used to heal, or transform gimmicks in an instant.
Wonderful! – Means Broken Matt is very happy with what he sees.
The Seven Deities – NERIC, COHLE, CHALL, SIRKO, ASTARR, GUSTAVO, & BROHARE are the names of the gods. They are the source of Broken Matt's powers and guide him like a compass. The names were revealed in a storybook of The Great War when Matt read it to his son Maxel.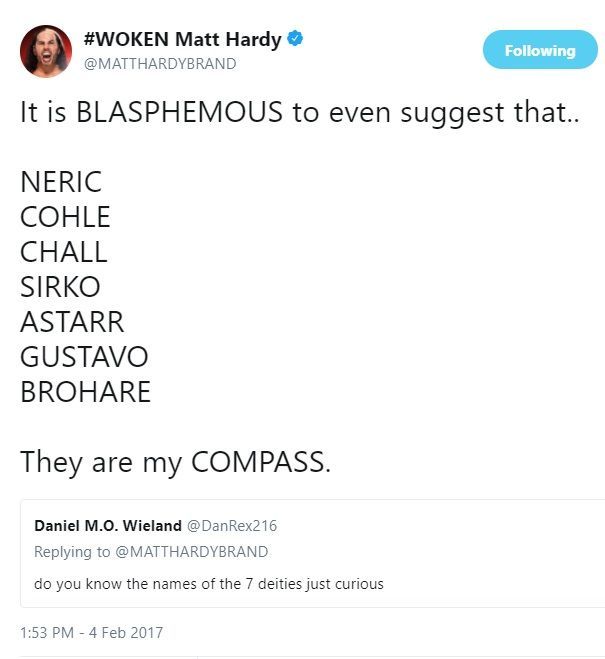 ---
Chapter 4: Total Nonstop Deletion Of Gold!
Because of his amnesia, Matt could not understand why everyone was telling him to delete. He didn't like wrestling any more, and all he wanted was to stay at home and do DIY. His family tried to help him remember .. but when he saw videos of what he'd done he was appalled and disinterested.
After a couple of weeks of "Amnesia Matt", Reby pushed Matt into remembering who he was again. He grew angry over not being able to remember his broken ways, so he charged outside to face The Seven Deities. He looked to the sky and angrily pleaded to show him a sign .. so they struck him with a lightning bolt. He re-awoke as his broken self, and more powerful than ever before. Shortly after, The Broken Hardys returned to the Zone of Impact to get revenge on the DCC.
In the coming weeks, Broken Matt hyped another special event at the Hardy Compound titled "Total Nonstop Deletion". Several premonitions gave him ideas, one which involved a main event named "Tag Team Apocalypto". The event was so big it encompassed an entire episode of Impact Wrestling, and was shot at the Hardy Compound with friends, family, and dedicated fans in attendance.
The main event of Tag Team Apocalypto sent an open challenge to all tag teams across space & time to converge on the Hardy Compound for a match with the TNA Tag Team belts on the line. Broken Matt challenged teams outside of Impact Wrestling to show up, including The Young Bucks, The New Day, and The Wyatt Family.

The event began with a comedic segment of a news reporter informing us a volcano had emerged in North Carolina. He advised civilians to evacuate the area and return after the eruption. The first match of the night saw the wrestling debut of Broken Matt's toddler son King Maxel Hardy in a No Disqualification match. After Maxel gave the sign to delete (!) .. Senor Benjamin hopped in the ring and tasered Rockstar Spud. Maxel went for the cover and kept his shoulders down for his first pin-fall victory.
Not going to spoil the rest of the show .. as I consider Total Nonstop Deletion the climax of what The Broken Hardys did in Impact Wrestling. Everything that happened after Matt became broken culminated at Tag Team Apocalypto. What I'm saying is .. if you've read this far .. yet never saw Total Nonstop Deletion, I recommend finding time to watch this special episode.
2017 – After the success of Total Nonstop Deletion, Decay and the DCC continued to challenge for the tag team titles but were unsuccessful. Matt found the lack of challengers in Impact Wrestling disturbing, and soon enough The Seven Deities gave him a premonition with an idea called the "Expedition Of Gold".
The Expedition Of Gold would see The Broken Hardys travel around the world to other promotions and claim as many tag team championships as possible. Doing so would make them the best tag team in all space & time. To get to far out places like Tijuana in seconds .. Matt & Jeff used a special ability The Seven Deities had bestowed on Vanguard One .. the power of teleportation!
Expedition Of Gold Achievements.
On Jan. 21st, they teleported to Tijuana and debuted in Konnan's Crash promotion. After some persuasion (not wanting money to work), they were given the opportunity to challenge for the tag team titles. They won the belts .. and quickly disappeared, leaving Konnan irate and out-of-pocket.

Later that week, they won the ASW tag team titles. The promotion announced the new champions on their Twitter page.

On Jan. 28th, they defeated

The Ecktourage

to claim the Maryland Championship Wrestling tag team titles.

On Jan. 29th, The Hardys reintroduced the old OMEGA Tag team title belts, a championship deactivated (in the promotion they founded) in 1999, just before they debuted with the WWF(E). They won a three-way tag team match to claim the titles they previously held before making the big time in the Attitude Era.
---
Chapter 5: The Owl & The Awakening.

In January 2017, the company went through a change of leadership as Anthem Sports took over TNA Wrestling, forcing Dixie Carter to stand down from her position. The new president Ed Nordholm invited Jeff Jarrett back to the company he founded, and offered him the position of Executive Producer and Chief Creative Officer. A number of wrestlers left due to new management, including Drew Galloway (now on NXT), Jade, Mike Bennett, Maria Kanellis, and in late February The Broken Hardys.
Reby Hardy went on a Twitter rant, insulting Impact Wrestling for their unprofessional conduct. She claimed working for Impact Wrestling had been great for their family, but they waited too long to offer new contracts and what they were expected to sign was not acceptable considering the exposure the gimmick had given the company. Apparently, Matt & Jeff were told if they weren't happy they should go back to WWE.
They wrote The Broken Hardys off TV by having Vanguard One malfunction as they teleported to their next destination. It resulted in The Hardys disappearing forever, while Decay were teleported out of nowhere with the tag team belts in their arms. Well .. that's one way to do it!
The Honorable Ring: Only weeks after being released, The Broken Hardys signed a short-term deal with Ring Of Honor. They won the titles in their first match against The Young Bucks. Soon enough, it became news that Matt, Jeff, and ROH were not allowed to use the broken gimmick as Impact Wrestling sent out cease and desist letters not long before the 15th Anniversary Show. It cost the promotion money as some networks were forced to pull the show.
The case over who legally owned the gimmick was in dispute as Ed Nordholm credited some of the invention to Jeremy Borash, Dave Lagana and Billy Corgan, while the Hardy family only credited themselves and Borash. Frustrated by the Anthem Sports Owl, Matt decided it was time to render the TNA tag team titles obsolete by throwing them into the Lake Of Reincarnation.
The Hardys worked their last match in ROH on April 1st at Supercard of Honor XI. In the main event, The Young Bucks defeated them in a ladder match for the ROH World Tag team titles. After the match they said their goodbyes to The Young Bucks, ROH, and its fans. The next day, The Hardy Boyz made a surprising and lucrative return to WWE at Wrestlemania 33 where they won the Raw Tag Team titles in a four-way ladder match.
While Matt sorted out the trademark issues for the gimmick, he was unable to use the character on WWE television. However, he still used the delete hand gesture and other mannerisms without drawing much attention. Talk about Matt and Anthem going to court over the rights remained to be seen. At the end of 2017, Matt filed for the rights to use it, and went unopposed by Anthem .. which opened the door to allow the character to "wake up" after Matt lost a match to Bray Wyatt. "Woken" Matt Hardy debuted on WWE television the following week, continuing the character made famous in the last couple of years.
---
Conclusion: The Broken Universe Lives Once More
It remains to be seen how much of the universe will find its way on to WWE programming. There's so many unanswered questions: Will Jeff return as Obsolete Brother Nero? Will Reby, Maxel, Senor Benjamin, Vanguard 1, and Wolfgang be introduced? Will we get special events at the Hardy Compound? And just how silly can it get? Will Matt have the freedom to make it unique and bizarre? Or will WWE set limits?
You might not be a fan of the change and it doesn't surprise me. Everyone has different tastes, and it took me a while to understand it. What we're seeing is Matt trying to be remembered as an equal to his brother, and after many years in Jeff's shadow, he's finally found something he likes. What is joyful, is how much he and the family enjoy portraying these characters. I'd recommend you give it a chance, because this is The Hardys looking to prove they are still as relevant as they were back in the day. They've gone through a lot to get back, and they are keen to stay as long as possible.
Ending with a gallery of some of the best pictures of the family enjoying time in a universe they created. I thank them for the hard work, and for daring to be imaginative. I thank you for taking time out of your day to read my extended, revisited piece on their journey back to WWE. And yes, I feel better knowing it's all one place. Merry Christmas all!
Broken Gallery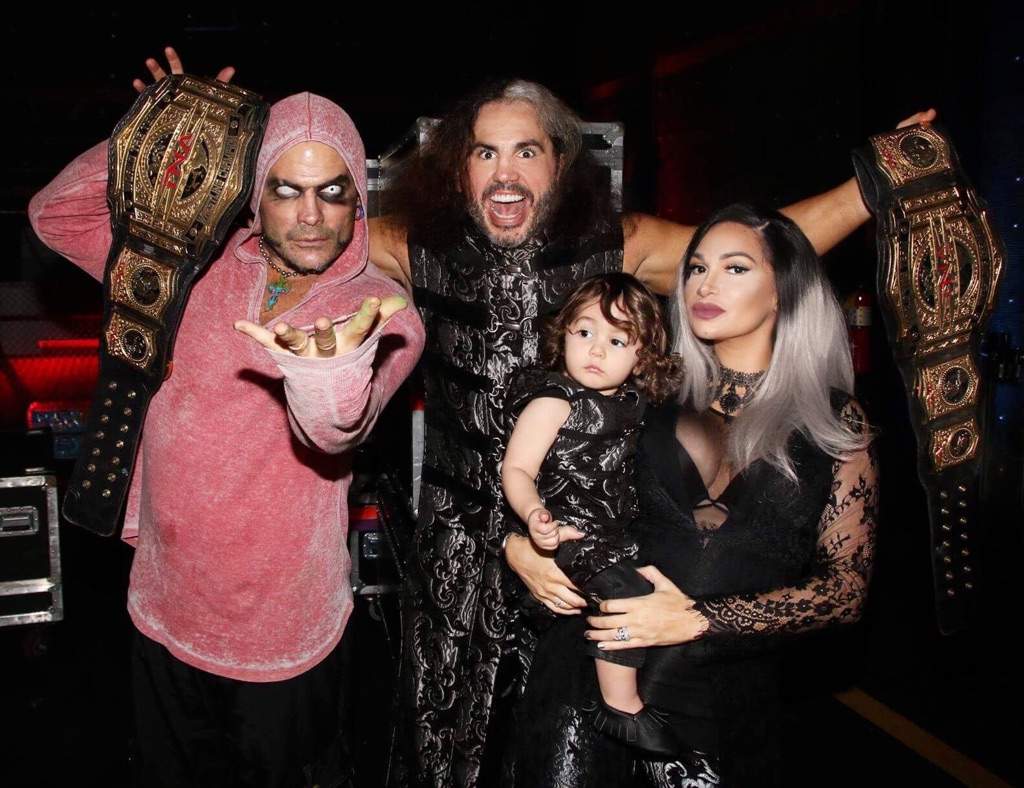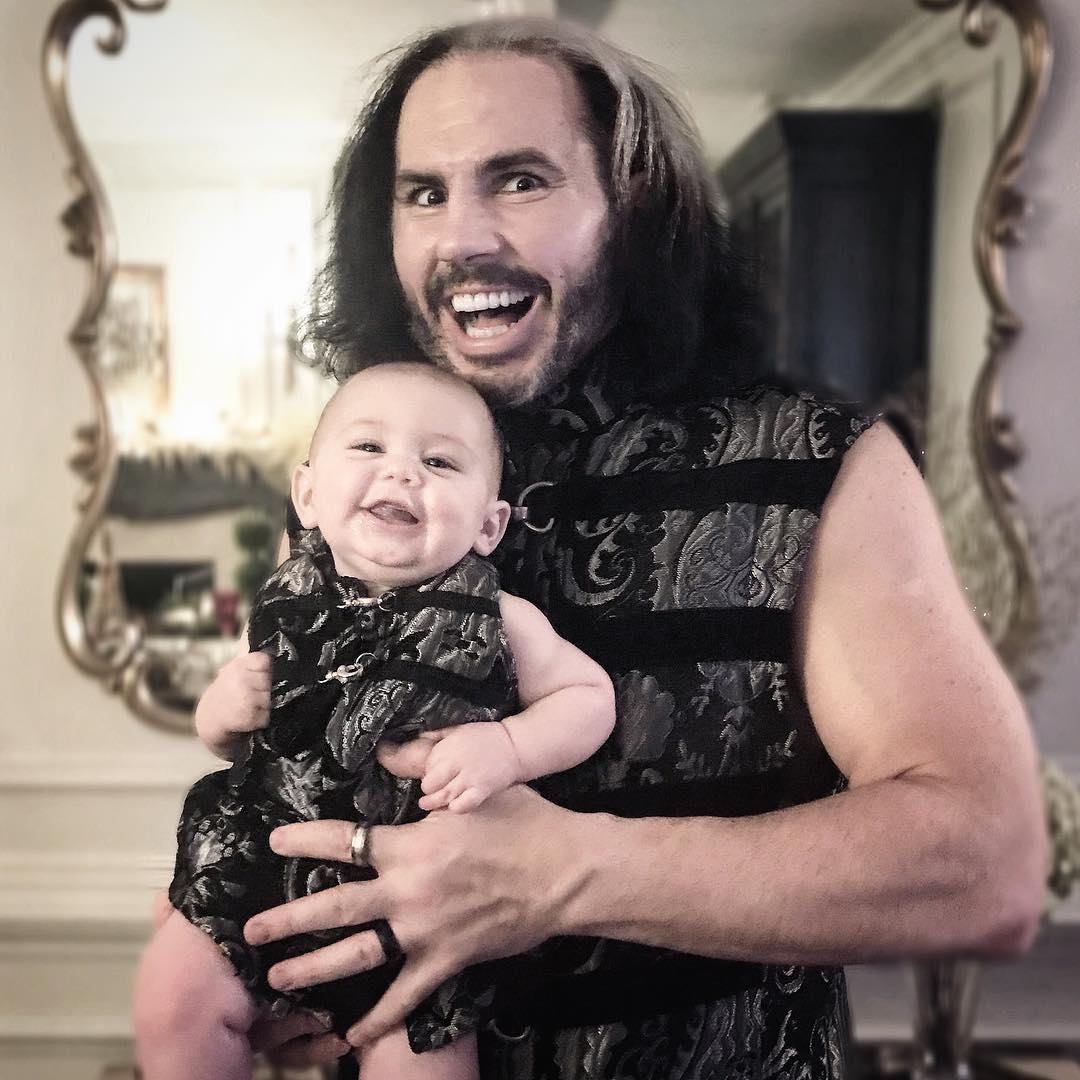 Fin.
You can keep up with all your wrestling news right here on eWrestlingNews.com. Or, you can follow us over on our Twitter and Facebook pages.