As a tribute to the return of "Woken" Matt Hardy, I've gone back to my earlier work; a four-part series on Matt & Jeff's run in Impact Wrestling from 2010-2016. I made the series back in April, and I planned to link the parts together in to one wonderful collection; but it slipped my mind and the timing never felt right.
So with that in mind, this is a re-post of four articles in one .. however, I have taken extra care and made improvements. They will be less filler (cutting intros/conclusions), and I will include a delightful gallery at the end. This is more for fans who 1) never saw Matt & Jeff when they worked for (TNA) Impact, or 2) missed the original series in April. For those who are neither? It still might be worthwhile to see the extras. I've added more to ensure the collection is of the highest quality.
In the past, I have defended Impact's decision to retain the gimmick as I felt they should've been given more credit for allowing it to flourish. I believe creative guys like Jeremy Borash and Billy Corgan contributed, and shouldn't be dismissed just because they worked there. I do not deny that Matt put the most into it, not just creatively .. but with production as well. More on that later.

The four-part series was made for fans who are unaware of how the broken universe came to be. Now Matt has "woken", I think recent events may have confused some WWE fans. They don't know how, or why he's changed, and even more baffling is the reaction to the reveal. Hopefully this long, yet informative collection will clear the air and give more clue to why Matt is acting so strangely.
---
Chapter 1: Immortal Intoxication.
The Hardy Boyz made their long-awaited return to WWE at Wrestlemania 33 this year. In the first chapter I will highlight their key moments between 2009-2015. In 2009, while feuding with CM Punk over the World Heavyweight Championship on the Smackdown brand, Jeff Hardy accepted a match with the stipulation where if he lost he would be forced to leave WWE. The scripted stipulation gave Jeff time off to recover from a neck injury, two herniated discs in his lower back, and a condition known as restless legs syndrome. While he was away, Matt continued to work for WWE in its mid-card.
An event which came as a surprise to WWE officials, Jeff decided to sign with TNA Wrestling and appeared on its special live Monday night episode of Impact on January 4th, 2010. Jeff worked as a top babyface til Bound For Glory 2010. In the main event, he won the TNA World Heavyweight Championship (in a triple threat against Mr. Anderson and Kurt Angle) with help from Hulk Hogan's Immortal stable; establishing himself as a heel champion.
Meanwhile, Matt was sent home from WWE's European tour as they believed he was not in the right state of mind; and Matt later denied being sent home. He went on YouTube to express his feelings on the WWE product and made comments suggesting he was trying to get released. Five days after Jeff won the TNA title, WWE granted Matt's wish and released him from his contract.
Jeff became the #1 guy in TNA thanks to Hogan's Immortal stable. Jeff explained his actions while claiming to be the "Anti-Christ of Professional Wrestling".
Matt debuted with TNA during the Genesis 2011 PPV, and worked a match with Rob Van Dam. And let's be honest .. he didn't make much impact. He became a lackey for the Immortal stable to help Jeff retain his title. His weight became a running joke (Fat Hardy) among wrestling fans.
Jeff lost the "Immortal" title for a second time, before challenging champion Sting at Victory Road 2011. Jeff was not in a good place .. as he was found backstage intoxicated. Somehow, he was allowed to enter the Impact Zone to work with Sting. He was in no fit state to wrestle, so during Sting's entrance an audible was called.
Eric Bischoff charged down to the ring to tell Sting the new finish while using the line "This match will be No Disqualifications" .. just to have an excuse to be there. And much to Jeff's surprise, Sting forcefully dropped him with the Scorpion Death Drop and covered him for the pin. Jeff tried kicking out, but Sting put all of his weight on and the referee counted the fall. The fans chanted "bullshit" as Sting retorted with "I agree". TNA told Jeff to go home and get sober.
Matt soldiered on while Jeff was away .. but saw little success challenging for Sting's World title, or Beer Money's Tag Team titles (w/ Chris Harris). In June, it was reported TNA had suspended Matt .. and in August, Matt was arrested for DUI (drove his Corvette into a tree), forcing TNA Wrestling to release him from contract the same day.
At the end of August, Matt posted a video which suggested he was planning on commiting suicide:
"Goodbye, World…
My time here is Almost complete…
I only have a few hours & minutes…
I loved you all…
Regardless of how you felt about me…
I'll miss you all…
September 23, 1974 – August 31, 2011."
It was a hoax apparently. Many fans called the police as they were concerned for his health. After it was confirmed to be a hoax to garner attention, Jim Ross chimed in with his thoughts: "Matt Hardy fiasco totally embarrassing & inexplicable. Alleged suicide you tube got him noticed…sadly in absurd way. Matt, seek answers." Matt announced his retirement from wrestling on September 1st due to injuries.
Only two days after Matt's release, TNA announced his brothers return. Jeff returned to Impact and asked the audience for forgiveness. While Jeff was given a chance to prove himself, Matt returned to the indy scene with a win over old rival MVP. Matt returned to Ring Of Honor in September, and Jeff worked through the Bound For Glory series to become number one contender after staying clean for months. Jeff defeated Austin Aries for the TNA World title at Bound For Glory 2012, with TNA claiming he had completed his 'Road to Redemption'.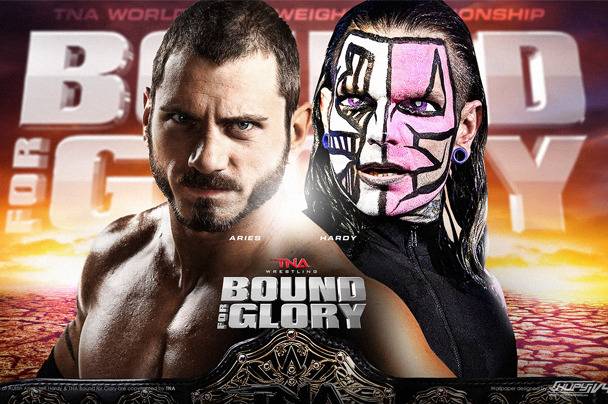 Jeff defended the title against challengers Kurt Angle, Austin Aries, Bobby Roode, and Christopher Daniels. After five months on top, Jeff was dethroned by Bully Ray after revealing himself the leader of the Aces N' Eights stable. Throughout 2013, Matt unsuccessfully challenged for ROH titles while Jeff spent the rest of the year feuding with Aces N' Eights and challenging for the X-Division title.