Wrestlemania 24 (tagline: The Biggest WrestleMania Under the Sun) drew 74,635 fans to the Citrus Bowl in Orlando, Florida on March 30th 2008. The three brands of Raw, Smackdown and ECW were represented once again by their respective commentary teams.
The card included all three main heavyweight championships from each brand being defended, the fourth Money in the Bank Ladder match, a No DQ contest between Big Show and Floyd Mayweather, Jr, and a career threatening match between Ric Flair and Shawn Michaels. It also marked the second time Wrestlemania was held outdoors, the first being at Wrestlemania IX.
---
Introduction
Visually, Wrestlemania 24 was a beautiful sight. On several occasions the camera would pan out to show the mass of humanity. The entrance ramp is one of the longest I can recall in recent memory, meaning the entrances (and exits) took longer than usual. I can't remember much about the WWE product in 2008, it was a period in my life where I wanted an alternative, so I could go several weeks without watching Raw and Smackdown, and not feel like I was missing anything special. Before last night, I could only remember key parts of Wrestlemania 24. I started watching with a sense of disillusion; I wanted to like it, but at the same time,
Moving on, the dark match included a 24-man battle royal to decide the number one contender for the ECW Championship; Kane eliminated Mark Henry to win the match. So once again, without any further delay, will you join me as I share my experiences of Wrestlemania 24? I can't believe I've done 24 of these so far; anyone who's stuck with me from the beginning til now, you're the best; truly honoured.
---
Match #1 – John "Bradshaw" Layfield vs. Finlay (with Hornswoggle) in a Belfast Brawl
Amazing stadium, awe-inspiring. Less inspiring was the video package highlighting the story behind Hornswoggle being Vince's son .. and JBL informing Vince he's actually Finlay's son. One of the reasons why I lost interest in the product in 2008 was the Hornswoggle thing, so I had zero hope for the Belfast brawl. The video package showed JBL's ruthlessness as he threw Hornswoggle around a cage while Finlay was handcuffed to the ring rope; JBL's stern face remained.
Strange to see Finlay as a babyface, he got a nice pop, but not as nice as when he called Hornswoggle out, who'd recovered from his beating in the cage .Hornswoggle's entrance theme played for a long time as father & son made their way to the ring. Match began, with JBL booting Finlay to the outside, and Finlay doing some damage by throwing him in to the steel steps. Finlay wasted no time, as he threw garbage cans, cookie sheets, kendo sticks, the kitchen sink (not really, I'm joking), at JBL. Finlay got in the ring and was smashed over the head with one of the trash cans. JBL continued the punishment with two cookie sheets of death, and more trash cans.
JBL continued his assault, forcing Hornswoggle to interfere with a kendo stick shot, swiftly exiting the ring before JBL could get him. Finlay used the distraction to smash JBL with a trash can. Shortly after, JBL rolled to the outside and slapped Hornswoggle, prompting Finlay to follow and thump his head repeatedly on the announce table. After more brawling, JBL tried to escape Finlay and rolled to the outside. He picked up a trash can lid as Finlay, uncharacteristically, attempted a suicide dive, missed, and flew in to a trash can lid shot. Nice spot. A short time later, JBL was dominating Finlay, and out of nowhere, in highly amusing fashion, JBL picked up a trash can and brutally lobbed it at Hornswoggle, who was stood on the outside with no way of knowing it was coming; probably my favourite spot of the match.
Finlay used the brief opening to do a fireman's carry roll to a nice pop from the crowd. A table had been set up sometime ago (on the turnbuckle), and now it was time for Finlay to throw JBL threw it. Only two. Finlay picked up the steel steps to finish him, but the crafty heel got hold of a kendo stick and whacked him on the knees, sending Finlay's face crashing in to the steel. JBL set up the Clothesline from Hell to finish Finlay, and leave Hornswoggle with a worried look on his face.
All in all, a solid opening match which I preferred to say .. a Money in the Bank, because it warmed me in to the show, and it didn't suck despite JBL being involved. It was obvious who would win in the end, but JBL did such a good job playing the bad guy, the huge Wrestlemania crowd chanted "Let's Go Finlay", which is something you don't hear everyday. An acceptable hardcore match to start the show? Impressive.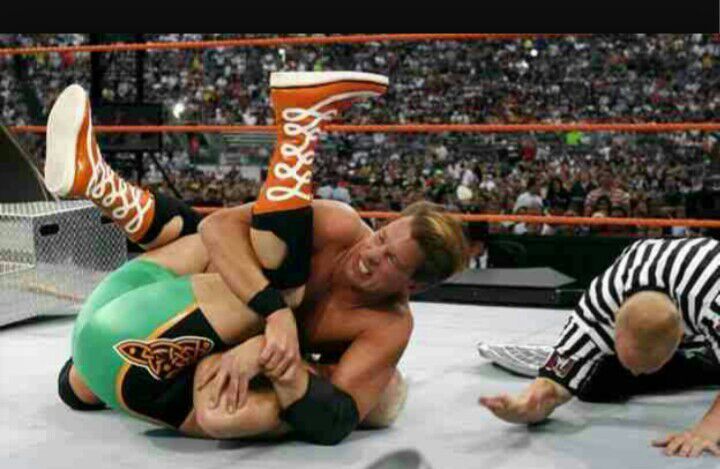 After this, the guest hostess Kim Kardashian told us about Money in the Bank, and all I could think about was Butters from South Park saying "Kim Kardashian is so sexy, her butt is like a big mountain of pudding!", and the episode when they kept calling her a "hobbit", while Kanye tried to defend her and make out she isn't a hobbit. Mr. Kennedy entered and claimed he would win Money in the Bank two years in a FREAKIN' row! Hobbit girl just stood and smiled as he did the MISSSSTTTEERR KENNEDY! … KENNEDY!
---
Match #2 – CM Punk vs. Shelton Benjamin vs. Chris Jericho vs. Carlito vs. Montel Vontavious Porter vs. Mr. Kennedy vs. John Morrison in a Money In The Bank Ladder Match
Oh jeez .. so much talent here, and think .. only one of them remains in WWE (all except Punk still wrestling) and we only see him once in a blue moon. The entrances took a long time, enough time for me to cook some food at least. I remember watching it live and having no idea who was going to win, and who I wanted to win. In 2008 I probably wanted Jericho to win, because I wanted him in the World title picture, and he created the concept so it made sense. Ok, everyone in the ring, bell rang, all except MVP left the ring for a ladder. Morrison did a Finlay from earlier on and slid a ladder in the ring, only for MVP to hold it and claim the ring for himself.
Eventually, Jericho and MVP found themselves across the ring from each other with their own ladder. In this particular ladder joust, Jericho was the winner. Morrison clocked Jericho, and followed up by innovating the … moonsault while holding a ladder .. from the top turnbuckle to the outside on top of everyone spot. Wowsers. A frenzy followed as all of them tried climbing the ladder and kept getting knocked off. If I called all the action here, I'll end up with over a dozen page article. A short time later, Shelton did a sunset powerbomb on Jericho on the ladder.. who was also holding on to Morrison, so a sunset powerbomb/superplex combo? Another beautiful spot.