Hey everyone! Welcome to Part 2 of my series Impact Profiles! Last time, we looked at the four divisional champions, and if you missed it, check it out here!
Today, let's take a look at the group I like to call Headliners. These folks may or may not be former Impact champions, but they are certainly title contenders. They're the talents responsible for carrying at least half the load in any main event, and are a threat to take the title whenever they get a chance. In some cases they might even eclipse some of the divisional champs in terms of importance to the company.
I'm going to change it up a little bit this time. Instead of going division by division, I'm going to rank them in terms of importance to the company from 1-6 (again, excluding champs). So without further ado, let's begin with our #1 Impact Profile!
#1: Tessa Blanchard
What can I say about Tessa Blanchard that I haven't already? Simply put, she is the best female wrestler in North America. Period. I don't care what PWI says, or contract numbers, or TV ratings at this time, Tessa Blanchard can work better than any woman outside of Japan, and outwork 3/4 of the men, too.
Then again, when you've got a wrestling DNA like Tessa, it's pretty hard to go wrong. The Rock and Randy Orton can be third generation wrestlers, and Charlotte Flair can talk all she wants about being Slick Ric's daughter. Tessa has them all beat.
She's a third generation talent.
She's the daughter of Tully Blanchard, so she's got Horseman blood in her.
Oh, and she's the stepdaughter of Magnum T.A.
Frankly, about the only way she could have stronger wrestling DNA is if Mariko Yoshida was her mother.
At 24, Tessa's just entering her prime, but already moves with the confidence and skill of someone far beyond her five years of experience. Athletic, she can go power for power with women much larger than her (Tessa's about 135 pounds), but can also go step for step with speedsters, fly high, use lucha stylings… in-ring she's the complete package. And whether it's with a Buzzsaw DDT or her flying top rope Codebreaker she calls Magnum, she can have anyone counting the lights 1…2…3.
Best of all, Tessa's got charisma. From her hair swinging and wink on her entrance onward, the fans pay attention. Every move she makes, she pulls your eyes towards her.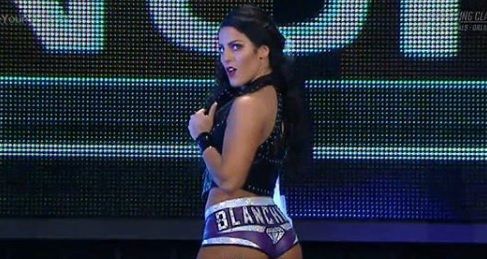 When she talks on the mic, people listen. She puts so much passion into what she says and does, either as an intense face or as a vicious heel, you believe it.
She's so believable, in fact, that not only has she been a champ nearly everywhere she's been (current WoW champ, former AAA Reina de Reinas champ, former Knockouts champ), but Impact has had her cross the line into intergender wrestling. Her rivalry with Sami Callihan has been, quite honestly, the best feud in Impact over the past 6 months.
But Tessa's strength is also Impact's biggest problem. While her performances against smaller X-Division wrestlers such as Dave Crist are believable, and her first match against Callihan made everyone suspend disbelief about her hanging with a man literally 100 pounds bigger than her, how far can that line go? Sure, I can believe her even winning the Impact World Championship against Sami.
But then what? Two of the other names on today's list are men more than twice her size, and all muscle. Some fans will have problems with her 'hanging' with men so large (a debate for another time).
If there is a size limit to Tessa's intergender endeavors, what then? Have her go after the Knockouts title again, when she's shown she can beat the crap outta men much larger than her? And if she does get the Knockouts title, how do you believably write such a superior athlete losing to someone like Madison Rayne or Kiera Hogan? Or does she transition to the X-Division title? There's not as much size difference there, but then you run the risk of your World Championship being overshadowed by the X-Division.
Worst of all, how much longer can Impact keep Tessa before her star power is so Undeniable that a big money contract from WWE or AEW has her saying goodbye?
#2: Brian Cage
I'm a machine!
Brian Cage is another wrestler in Impact with a strong foundation in lucha libre. A fifteen year vet, many people's introduction to Cage came in Lucha Underground when he was announced by his now wife Melissa Santos with plenty of stank on her voice as being from the 'five-five-nine.' For a complete retrospective on his career, check this out!
A mountain of muscle, Cage is highly athletic and can do things that you just don't think a man 270 pounds should be able to pull off, which makes sense for a man who started his career as a high flyer during brief stints in DSW and the old FCW before it became NXT.
When you watch Cage, don't blink, because just about every move this man does can end a match. F-5? Easy. Drillclaw? Done it. Weapon X? Nailed it. Using his unique blend of power, speed, and athleticism, Cage won the X-Division belt soon after signing with Impact in 2018. He then won the World Championship in April 2019 before dropping it to Sami Callihan just weeks ago.
But Brian Cage has some weaknesses. The biggest is that the former high flyer seems to be on the path of The Dynamite Kid, packing about 50-60 pounds of muscle on his body that he probably shouldn't be carrying. A walking needle cushion, his impressive physique and desire to pull off Cruiserweight moves means a lot of wear and tear on his body. His World title reign was literally Lesnar-esque, with just two defenses over a 6 month reign. The reason? He screwed his back up so badly taking a standing Spanish Fly that it's a small miracle he finished the match that won him the title. How good is your champion if he's sitting at home rehabbing all the time?
Cage's other weakness is his promo work. He's intense, sure. And he's got a great physical presence. But outside of that he could benefit from a manager. Dishing out ass kickings is his forte, but he needs help when there's another reason for creating mayhem.
#3: Moose
Moose (real name Quinn Ojinnaka) is the second Impact Profile of a trio we're going to look at today with similar strengths and weaknesses. Namely, they're all athletic as hell, but seem to be lacking in the charisma department or some other key ingredient.
In Moose's case, the former NFL offensive lineman just hasn't yet, in my opinion, come off as quite believable. His in-ring work is good for a man with his experience (effectively 5 years full-time). He's athletic as hell, and seeing a man six foot five, three hundred pounds hit a standing drop kick to someone on the top rope is nothing to laugh at. He's more than just a brawler, and while he's not the kind to put on a technical submission clinic, he has enough moves in his arsenal that he can make you stand up and take notice.
You can keep up with all your wrestling news right here on eWrestlingNews.com. Or, you can follow us over on our Twitter and Facebook pages.