**Edited on October 1st 2018**
Kevin Owens (c) vs. Sami Zayn vs. Stardust vs. Zack Ryder vs. The Miz vs. Sin Cara vs. Dolph Ziggler – Ladder Match for the Intercontinental Championship
I was in awe of the crowd, but I wondered if the fans at the top could see anything. As expected, the fans were more receptive to Sami Zayn and Kevin Owens, Stardust sported the Dusty Rhodes spots on his attire, which was pretty cool. Some nice spots for the highlight reel, like Zayn diving through a ladder to the outside, followed up by the corner DDT on Owens. Ziggler channeled his inner-HBK with some superkicks. Sin Cara pulled off a beautiful springboard flip to the outside after being pushed off the ladder.
Stardust introduced a polka dot ladder, and used it to knock guys out. Owens soon put an end to that and threw the ladder out in disgust; funny how Owens gets huge positive reactions despite playing the heel, he's like the anti-Roman Reigns. He soon put Zayn on a ladder and hit a gorgeous Frog splash.
Further in, Ryder did his one big spot; a Macho Man elbow drop from the ladder on to The Miz. Also Stardust ended up on a bridged ladder on the outside, and Sin Cara splashed him through it. Zayn and Owens left and the crowd popped as they slugged it out at the top of the ladder. In the end, Zayn dropped Owens' head on a ladder with a SICK suplex, essentially eliminating the champion.
The Miz climbed the ladder to a chorus of boos .. til Zack Ryder appeared and stopped him, leaving him free to claim the Intercontinental Championship for the first time. A shocking good-feel moment as he celebrated with his Father, and a long time coming.
With the huge list of injuries on the main roster, WWE is desperate to use the talent it has left. After years sitting at home, Ryder was "relegated" to NXT, and he's been there ever since. Giving the title to Ryder feels like a big reward for sticking with the company despite the harsh and blatant burial.
As for Owens and Zayn, I feel like the IC title isn't needed, and their feud will escalate in the coming weeks. As for the match, it's definitely not the worst ladder match at Wrestlemania, but it's not the best .. so fairly good at best. Ryder winning reminded me of Swagger and Mr. Kennedy winning Money in the Bank at previous events; it was a real surprise, but it's hard to see Ryder holding the title for long.
---
Chris Jericho vs. AJ Styles
Loved the jacket on Y2J. Apparently there were some issues with AJ's entrance not being shown on the screens. At this point I was more surprised by how early they were booked, as I felt it had the potential to be match of the night, but it had been reduced to a mid-card feel despite months of build.
The most annoying thing during the match was the commentary. Saxton tried putting Styles over, but JBL ranted over him and made Styles out to be a rookie. He kept saying Y2J was a six-time World Champion while AJ Styles wasn't. Funny, because I'm sure AJ's a three-time NWA Champion, 2-time TNA Champion, and 2-time IWGP Champion .. but no, it's WWE land so AJ's done nothing before 2016.
There's not much else to say. Jericho kicking out of the Styles Clash was a bad sign, and when Jericho won it didn't feel right. I'm sure many expected AJ to win, but I can see why he didn't considering Jericho was already 2-1 down in their feud. I also see why AJ didn't win because he hasn't been in WWE three months. He'll probably get his Wrestlemania moment next year after he's paid his dues in WWE. Either way, it was a good match, but wasn't anywhere near as thrilling as I hoped.
---
The New Day vs. League Of Nations
It was originally meant to be 4-on-3 but was switched to a six man tag with Barrett sitting out. LOVED The New Day's entrance, it was colourful, unique, and entertaining. League Of Nations entered to the usual groan from the crowd.
I got bored early on so I went to make something to eat. Despite the League Of Nations failing to capture the tag titles in recent weeks, they managed to defeat them at Wrestlemania with no titles on the line? Hmm.
Luckily it was leading somewhere as Barrett got a microphone and claimed the League Of Nations could defeat any three individuals. Enter Shawn Michaels, Mick Foley and Stone Cold Steve Austin!
Loving the nostalgia act as the Hall Of Famers beat on the League Of Nations. Austin enjoyed himself with a few Stunners, Foley with a Mandible claw, and HBK with some Sweet Chin Music. New Day helped out a little, and after the League of Nations were vanquished, New Day danced a little and got Foley and HBK participating. Austin played along with Xavier before giving him a Stunner as well.
I was left disappointed as the match was typical Smackdown quality, but at least WWE provided another Wrestlemania moment, even it was at the expense of the League Of Nations. It was nice to see Stone Cold at Wrestlemania for the first time in two years.
---
Brock Lesnar vs. Dean Ambrose – No Holds Barred
I enjoyed the build, so I was hoping it would be one of the better matches of the night. Didn't take long for Ambrose to go to Suplex City, as Brock lunged right in after the bell. The crowd kept count as the match progressed, as did the commentators. I liked that they introduced weapons, but without blood in a No Holds Barred match it doesn't have the same intensity.
I never once expected Ambrose to get the win on Brock. The low blow was only going to stop The Beast temporarily and anger him in the long run. Ambrose tried to introduce the chainsaw, and Barbie (Foley's barbed wire baseball bat), but was unsuccessful. Ambrose littered the ring with chairs, and almost defeated Lesnar with Dirty Deeds, but I knew that was it. A single F5 on the chairs finished Ambrose, and Lesnar redeemed himself from his title loss the previous year.
So nothing out of the ordinary here. Did anyone expect Ambrose to beat Lesnar when The Undertaker couldn't two years earlier? But the one good thing to come from this was that Ambrose was in the spotlight. He could have fought in the IC title match, or reduced to a tag team contest .. but this year he was fighting Brock Lesnar in No Holds Barred. It's a step in the right direction for his career, and for Lesnar it keeps his dominant aura intact.
---
Charlotte (/w Ric Flair vs. Sasha Banks vs. Becky Lynch – WWE Women's Championship
Wow. They're called superstars now? Not Divas? And they have an actual belt? Not a stupid accessory? At least they got something right. And who better to unveil it than Lita? And not only that, but this match had build and a great video package. After watching every Wrestlemania ever, I can safely say this was the most important, and most built women's/divas match in the history of WWE.
And cool entrances as well! I mean, clearly Becky's was the weakest, but Snoop Dogg rapping Sasha in was a treat, and Charlotte's attire and firework display was very fitting and spectacular. Fans were definitely on Sasha's side more than Becky's. Also commentary reminded us that Sasha got in to the business after seeing Eddie Guerrero defeat Brock Lesnar for the WWE Championship in 2004, so she's not only the cousin of Snoop, she's paying homage to Eddie as well? Are there any other reasons why we should love The Boss?
And yeah, the match was great. I ain't going to call the action, because there was a lot. I'll say I loved Sasha's tributes to Eddie; especially the Frog Splash which appeared from nowhere as the cameraman was out of position. The crowd was hot for Sasha, but in the end the old two-time Hall Of Famer got involved (again) and stopped Sasha from breaking the Figure 8.
Noticed all the heels going over? Well, excluding Zack Ryder. I understand why they decided to have Charlotte retain, because she's been built up as a dominant heel champion, and what better way to do it than at Wrestlemania? Charlotte needs the heat more than Sasha or Becky needs fan support .. so while I really wanted Sasha to win and pay homage to Latino Heat, we'll have to wait for her moment.
---
The Undertaker vs. Shane McMahon – Hell in a Cell w/ many stipulations
The overly booked Hell in a Cell match went ahead, and while they tried their best to hype it as something important, everyone knew Taker was going to win and nothing would change. Shane O' Mac brought his sons out with him during his entrance, and the next generation of McMahons found their way to ringside.
So after some offense, Taker managed a Last Ride and Shane kicked out. It's unbelievable how much endurance Shane has considering he hasn't wrestled in years, and even back when he did wrestle regularly, a Last Ride would have done the trick.
A triangle choke by Shane on Undertaker needed a huge suspension of disbelief as well, and again when Taker chokeslammed him on to some steel stairs. Also, Shane somehow managed to get Taker in a Sharpshooter. In all honesty, Shane shouldn't be able to do this, it's kinda insulting to the real wrestlers who wouldn't stand a chance in this scenario. Shane placed Taker in the corner and set up coast-to-coast, a spot which never fails to impress me.
Shane found some bolt cutters under the ring. He seemed to know exactly where they were, and used it on a specific bolts to show his skills at dismantling a cell to his advantage. But it wasn't to his benefit after all, as Taker grabbed Shane and conveniently crashed through the tampered panel.
Some fighting on the outside, til Shane found a red toolbox and smashed it off Taker's skull. The Deadman decided to lie down on the announcers table for a while as Shane sat on the floor. He looked at Taker, and his eyes told the story as he looked up. The crowd cheered as Shane started climbing. Now, I'll be honest, I thought Shane was going to do that thing where you climb halfway and fall off it, but on this occasion he climbed right to the top.
One of my first memories of wrestling was watching Shane fall from the titantron at Summerslam, so I knew he had it in him .. but through a table from that height? Surely not. The fans chanted "Please don't die", as he looked down at Taker. After getting in position, Shane crossed his heart and hoped not to die, as he fell off the cell and just .. kept falling. Taker moved out of the way, and luckily the mountain of cushions were exposed immediately after impact; telling me he was completely fine.
The match ended rather awkwardly, with Shane telling Taker to bring it .. then Taker telling Shane to bring it .. Shane telling Taker to bring it .. and finally Taker getting fed up and ending him with a Tombstone. I was hoping for a swerve, like Shane showing his true allegiance to Vince, or something along those lines .. but nope, they just wanted a reason to have the daredevil do his crazy stunts at Wrestlemania.
While the match sucked, the entertainment value was higher than expected. It will be remembered for its moments more than the brunt of the match. But isn't that what Wrestlemania's about? Making moments? Providing moments where we can look back and think .. I remember when Shane jumped off Hell in a Cell and crashed through a table. No one's going to fondly remember Taker's Last Ride, or Shane's Sharpshooter, they'll remember the fall and not much else.
---
Andre The Giant Memorial Battle Royal
First thing I noticed was Baron Corbin, and I was like .. dude, Baron Corbin's in this! And he didn't even get an entrance. Show, Henry, Kane, and DDP (Yes!) got entrances though. Oh, and Shaq got an entrance as well. Damn he's tall .. was the only thing I could think as Shaq and Show stared each other down.
Oh, and another thing! Tatanka was in this as well. You know what I hate? When they have battle royals and they fail to mention who's participating til we're already a few minutes in. The battle royal was silly and didn't have much going for it. DDP managed a Diamond Cutter at one point, which was probably the coolest thing in the entire match.
The Social Outcasts gradually became the "dominant" force to be reckoned with as the numbers dwindled. The big guys of Kane and Henry helped to get rid of them, as well as Darren Young. Kane didn't appreciate Young's help, so he eliminated him, and Baron Corbin took the opportunity to dump the Big Red Machine to the floor for the biggest win of his career so far.
The crowd popped and chanted "NXT!". On NXT, Corbin is seriously hated, but on this occasion he was representing so he was an automatic babyface. I've been a big fan of his work since he adopted the Lone Wolf gimmick, so to see him at Wrestlemania winning the Andre The Giant Memorial trophy? A highlight for me.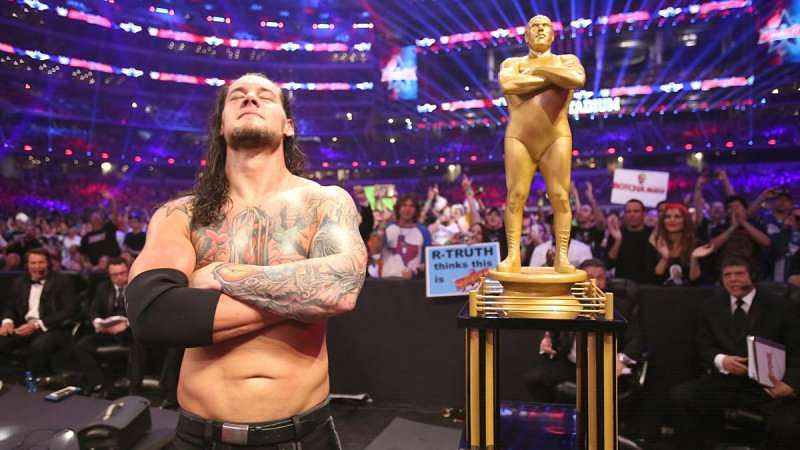 ---
The Rock vs. Erick Rowan
The Great One returned for another Wrestlemania moment. His promo dragged on for a while til The Wyatt Family showed up with a stadium of fireflies. Rocky asked Wyatt why he felt the need to interrupt his good time with the people, and Wyatt responded by saying he was here to eviscerate "Mr. Rock" and claim his Wrestlemania moment.
Rock responded with some off-colour jokes, but then praised Wyatt's ability and charisma. The fans agreed with The Rock, which I found to be the only positive for Wyatt on the night. Surprisingly, the Rock challenged any member of the Wyatts to an impromptu match and revealed he was geared to wrestle; Wyatt chose Erick Rowan.
As a referee made their way to the ring, Rowan and Rock stared each other out as the fans chanted "this is awesome". The bell rang, Rock delivered the Rock Bottom, 1-2-3. Six second match, and a new record set at Wrestlemania.
The Wyatts weren't done with The Rock, so they surrounded him. John Cena entered to the typical "polarizing" reaction and assisted Rock in taking out The Wyatt Family. Rock and Cena posed for the fans, and showed respect to each other.
Mixed feelings on the segment. Rock didn't bring anything new, and neither did Cena. A similar segment to the Hall Of Famers beating on The League Of Nations, except this time it wasn't completely at the expense of The Wyatt Family.
Rock and Bray had their little moment which I'll remember the most. When Rock endorsed Wyatt and let the fans know he respected his talent, and the fans responded positively, that's what I'll take from it. Wyatt couldn't wrestle a match due to a back injury, so at least they got him on the show somehow.
---
Triple H vs. Roman Reigns – WWE World Heavyweight Championship
I was so tired by this point, and I was debating whether to fall asleep or try my hardest to watch the inevitable disaster. And Triple H's entrance helped because I didn't want to fall asleep and think about Stephanie lording over me like a bitch queen from hell. The entrance caught me by surprise, because while it was rehearsed incredibly well, it felt overly dark for a PG-rated family show.
Roman Reigns entered with new ring attire, but the reaction didn't change. After Reigns came out it became difficult to hear the fans for some reason, but they were mostly negative, or referring to Shinsuke Nakamura. The funny thing was the majority wanted Triple H to win, and everything he did was cheered; I guess the entrance didn't do anything to get the fans behind Reigns.
And to be honest, Raw is on, and the match was so dull I wished I had gone to sleep after all. I'll put it up there with Miz vs. Cena as one of the worst main events in Wrestlemania history. Let's see what they come up with in the following weeks. Great match for Roman Reigns fans, but for fans who want a little more? Not so much.
Conclusion
If you watch WWE for pure wrestling contests, then you're watching the wrong show. WWE is about entertainment, and I would say Wrestlemania 32 delivered many memorable moments. The women's match was the best, and I didn't mind Brock vs. Ambrose. Corbin getting his moment was a highlight, as was seeing Austin deliver some stunners.
Shane falling off the Hell in a Cell will be replayed for years, and Zack Ryder's IC Championship win was unexpected. There were some strange booking decisions, and I wouldn't blame anyone for criticizing AJ Styles' loss, Charlotte's win, New Day losing, and Dean Ambrose losing. I liked it because the usual predictability wasn't there .. til the main event.
Rating the event is difficult. There were some memorable moments, but several matches suffered in quality and common sense. I feel like it exceeded expectations when you consider how many wrestlers are inactive with injuries. There's a change in the air with NXT doing so well, and we have many talents who could gain "promotion" to the main roster and make next years Wrestlemania even better.
Overall, I'll say Wrestlemania 32 was a good show, which inevitably has its flaws .. but I've seen a lot, lot worse. The main event dragged it down considerably, but it still managed to deliver. Thanks for reading everyone! And I'll see you again soon.