(2002) (2003) (2004) (2005) (2006) (2007) — Hello everyone! Been a few weeks since the last installment so this month we kick off with a look at the history of TNA Wrestling in the year of 2008.
The creative team remained the same from the previous two years with Jeff Jarrett and Vince Russo leading the way, while Dutch Mantel focused on the Knockouts Division and other things.
Champions: Kurt Angle (World Champion), Gail Kim (1st Knockouts Champion), AJ Styles & Tyson Tomko (Tag Champions), and Jay Lethal (X-Division Champion).
The year also marked the introduction of a new secondary title called the 'TNA Legends Championship', which would later be deactivated and renamed several times. Also there was a change to the PPV schedule, with Genesis being taken out in favour of a second Final Resolution. The issue of the same PPV name being used twice was rectified the following year.
---
Final Resolution ("Best Friends… Better Enemies")

Not one of the best events .. by any means, but still managed to deliver two decent contests.

LAX continued their mediocre run with a win over The Rock n' Rave Infection.
Kaz had a match with Black Reign (AKA *fat* Goldust) where he predictably came out the victor.
The best match of the night was between the first Knockouts Champion Gail Kim and her nemesis Awesome Kong in a No DQ match. They showed what women could do while other promotions focused on Diva Searches (or had no women at all!), and pretty much beat all the other bouts including the main event.
Booker T and Sharmell joined forces to defeat the couple of Robert Roode and Ms. Brooks.
Johnny Devine and Team 3D enjoyed a win over Jay Lethal and the Motor City Machine Guns in an Ultimate X match. As expected, Team 3D were inventive with their offense.
AJ Styles and Tomko were challenged to a title match by Samoa Joe and Kevin Nash. Styles and Joe did everything they could to carry things, but it wasn't too memorable in the end. Christian's Coalition came out on top.
In the second best match of the night, Kurt Angle and Christian Cage fought over the TNA World title. Critics say the first half was slow, but the second half really picked up and made it worthy of a main event. Sadly the way it ended took away from it, as Karen interfered, and AJ Styles turned on his leader and sided with The Angle Alliance to give the champion the easy victory.
On future episodes of TNA Impact there were further title changes. The next day, Awesome Kong became the 2nd Knockouts Champion with a win over Gail Kim. On the 21st January, Johnny Devine won his only major TV championship by overcoming his rival Jay Lethal to claim the X-Division Championship.
---
Against All Odds (BARB-WIRED!!!)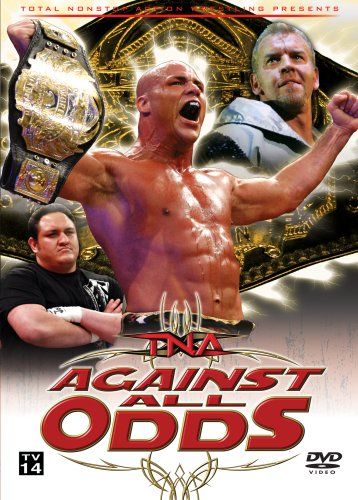 The event drew 3,500 fans to the BI-LO Center in Greenville, South Carolina. It marked the first time matches from other venues aired together on a TNA PPV. It was also the second time they used the Barbed Wire Massacre concept. Something I totally overlooked was the TNA World Beer Drinking Championship which James Storm and Eric Young had feuded over since November.
Styles and Tomko opened the show with an easy title defense against B.G James and Bob Armstrong.
A terrible five-minute match between Payton Banks and winner Traci Brooks.
Scott Steiner had taken a liking to Petey Williams, so much so he challenged Petey to a match for his World Championship Feast Or Fired briefcase and his own X-Division briefcase. Steiner defeated Petey to take both title opportunities for himself.
Eric Young defended the World Beer Drinking Championship against James Storm.
With the help of manager Raisha Saeed, Awesome Kong defended her Knockouts title against worthy challenger ODB.
The son of James Mitchell and brother of The Monster Judas Mesias, fought hard against Abyss in Barbed Wire Massacre but was unable to keep the big man down.
Booker T and Robert Roode continued their feud in a forgettable brawl.
In one of the better matches of the night, Johnny Devine and Team 3D looked to destroy the X-Division forever in a six-man Street Fight against Jay Lethal and The Motor City Machine Guns; which was also for the X-Division title. Also had Team 3D lost, they'd be forced to work with a weight limit. After 12 minutes, Jay Lethal elbow dropped Devine through a table and reclaimed his X-Division gold.
In the best match of the night .. Angle defended his World title against Christian Cage; this time with Samoa Joe as special outside enforcer. While Joe managed to stop Angle from cheating, and AJ Styles from interfering, he was unable to stop Tomko from showing his true colours as he turned on Christian much like AJ did the previous PPV. Angle walked out with the gold once again.
Before the following event, James Storm managed to reclaim his World Beer Drinking Championship on Impact with a win over Eric Young. At the following tapings, Rhino stole the belt and bashed the belt across the ring post, destroying it and the storyline surrounding it in one swift act.
---
Destination X

The venue was originally scheduled to take place in the Impact zone, but plans changed and instead it ended up in the Norfolk Scope in Norfolk, Virginia. The event drew 3,200 fans.
In the opening match the #1 contenders to the Tag Team titles were decided between three teams. Despite a poor run of form, and Motor City Machine Guns being featured on the poster, LAX overcame MCMG and The Rock n' Rave Infection to become number one contenders.
Petey Williams had joined forces with Scott Steiner and Rhaka Khan, and underwent a gimmick change where he was basically a smaller version of Scott. Despite this, he was unable to defeat Jay Lethal for the X-Division title.
Awesome Kong once again proved her dominance with a win over Gail Kim and ODB.
In a rather amusing angle, Team 3D had lost and won several matches against Shark Boy and Curry Man due to the weight restriction. They were not to exceed 275 Ibs otherwise they would be unable to compete. Jim Cornette stated if Team 3D showed up to Destination X within the weight limit he would do away with the limit altogether. They made it, so they fought in a Fish Market Street Fight (like a normal street fight, but with fish paraphernalia around the ring) where they were unsuccessful as Brother Ray got white powder in his eyes (due to Devine's failed interference) and gave Brother Devon a 3D.
Rhino and James Storm fought in the second-ever Elevation X match which was not well received by critics. Rhino won in the end by throwing Storm off the structure and through a table.
The Unlikely Alliance of Christian Cage, Samoa Joe and Kevin Nash defeated The Angle Alliance. Not one of the best main events .. it was good, but not worthy of a PPV.