Hello! This is a Royal Rumble 2003 detailed review. Welcome back to the series! Did you miss any earlier volumes? Links are provided below:
#1 ('88) – #2 ('89) – #3 ('90) – #4 ('91) – #5 ('92) – #6 ('93) – #7 ('94) – #8 ('95) – #9 ('96) – #10 ('97) – #11 ('98) – #12 ('99) – #13 ('00) – #14 ('01) – #15 ('02)
---
Royal Rumble #16 – Boston

With an attendance of 15,338, the Royal Rumble event (yet again) continued the trend of having a smaller crowd than earlier years. No tagline used for this PPV, and it was the first-ever "WWE" Royal Rumble. The biggest absentees were Stone Cold Steve Austin and The Rock. Austin had left the company due to severe injuries (& drama with his booking).
The Rock on the other hand, left to focus on his film career after seeing fan support plummet the months following his victory over Hollywood Hogan at Wrestlemania X8. They both returned to WWE shortly after this PPV, in different roles. I did not watch the entire show this time, so the results are as follows:
1) In the opening match, Brock Lesnar earned his way in to the Royal Rumble with a win over Big Show; managed by his former advocate Paul Heyman.
2) The Dudleys claimed their 7th WWF/WWE World Tag Team Championships with a win over Lance Storm & William Regal.
3) The only women's match on the card, featured Torrie Wilson going over Dawn Marie "Wilson" (I believe Dawn had married Torrie's Father in the story ..) in three minutes. Yawn.
4) One of the worst feuds of the year culminated with Scott Steiner beating Triple H. But it was by disqualification .. so the World Heavyweight Championship (Big Gold Belt) did not change hands. The less said about it the better.
5) One of the best title matches in Royal Rumble history went down before the main event. While to some, it may be hard to watch due to the challenger .. Kurt Angle regularly reminisces over the magic contained within. He and Chris Benoit fought for the WWE Championship in a wrestling clinic.
It was one of the greatest counter-for-counter matches of the ruthless aggression era. I remember watching it live .. totally glued. I had never seen a match like this before. Some would say we get matches like it all the time now .. but back then? Angle & Benoit were setting the bar.
---
Rumble Roundup

Shawn Michaels out first for the second time in his career. A rare mistake from Jim Ross, as he labeled it the 15th Royal Rumble. Chris Jericho out as number 2 .. but wait? That's not Jericho! It's Christian. Jericho sneaks in from behind and low blows Michaels. After beating him down, Y2J pushes a ringside guy over to grab a steel chair. He got in the ring and delivered a dangerous looking shot to HBK's head. And he's busted open!
Out next is Harvard graduate Christopher Nowinski. I believe it was his only Rumble appearance as concussions affected his health so badly, he had no choice but to retire early and start his own research company to help athletes deal with brain conditions. Of course he did the smart thing by waiting to get in to the ring. Jericho toyed with the bloodied Michaels, before dumping him out of the Rumble! The crowd hated it .. but it was needed to give Jericho added momentum going in to their classic encounter at Wrestlemania. Jericho goaded Nowinski in, but he was reluctant as the countdown timer popped up.
619! Rey Mysterio hit the ring and heads straight for Jericho. They fight hard as Nowinski takes his sweet time deciding when to enter the match. After Rey takes Jericho down with a springboard move, Nowinski enters and attacks Rey from behind. #5 is Edge. He lights the place up with quick double clotheslines and spears. Rey & Edge work together to force Jericho in to the ring post, and he falls out of the ring but is not eliminated. Nowinski escapes as well, and is laying on the outside.
Edge & Rey shake hands, while simultaneously kicking each other. Edge misses a spear, and Rey misses a 619. A cool spot with Edge getting Rey seated on the top rope and pushing him off .. only for it to backfire as Rey gets his legs around his head. Edge is close to being eliminated, but both Raw & Smackdown referees agree that only one foot touched the floor. Rey springboards off the top rope at Edge, and is powerbombed for his effort. Christian! The #6 entrant gets in the ring and hugs his brother, doing his best to form an unlikely alliance. When Christian goes after Rey and misses, Edge shows his allegiance by spearing his brother.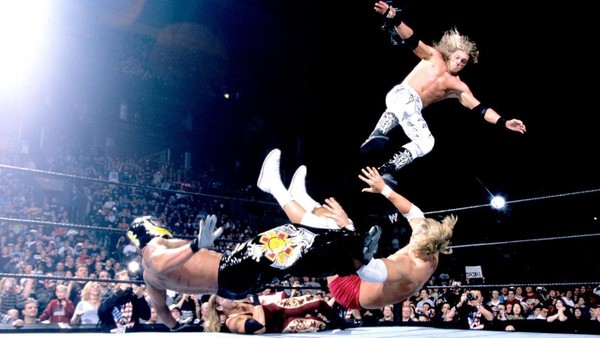 Nowinski almost has the greatest moment of his wrestling career, as he pushes both Edge & Mysterio over the top rope. The dumb thing? He celebrates too early and fails to check they're eliminated. As he celebrates the moment, Edge and Rey get on a turnbuckle each. Nowinski turns around and gets knocked down by Rey with a double legged dropkick .. but in the words of Ron Simmons (Damn!), Edge came down immediately after and lands full weight on his head. Poor guy!
Chavo Guerrero out .. and you just know he's wasting no time finding his old friend Rey Rey. After a lucha libre sequence, Mysterio hit the 619 on Chavo so easily you could almost believe they've never fought before. Edge holds Christian on the ropes so Rey can hit him with a 619 as well. He goes for the springboard on Christian, yet is instead caught in mid-air by Nowinski who tries dropping him to the outside, but Rey has a better idea in using his legs to eliminate him. Absent for a while, Jericho finally returns and catches Rey completely off-guard with a clothesline which eliminates him; the crowd does not like that either.
Tajiri! Always one of my faves. Some wicked kicks directed at Christian, before being cut off by Chavo. Tajiri takes him for a modified aeroplane spin, while Jerry Lawler jokes that he can't tell Tajiri or Funaki apart (you're not funny King). Hmm .. the controversial Bill DeMott is next. I liked what he was doing at this time. I'm positive he was on the verge of a push, but perhaps he wasn't well-liked backstage? Commentary sells him as being possibly one of the strongest guys in the match. He brawls his way through everyone, looking a threat for a while. Appears to no-sell too, especially Christian's punches. JR tells us DeMott is a "stud", and a "stallion".